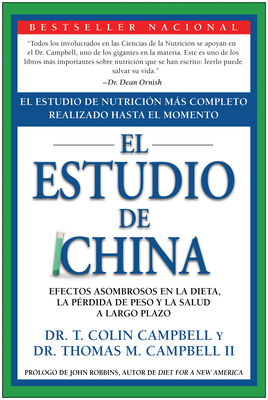 El Estudio de China
El Estudio de Nutrición Más Completo Realizado Hasta el Momento; Efectos Asombrosos En La Dieta, La Pérdida de Peso y La Salud a Largo Plazo
Paperback

* Individual store prices may vary.
Description
The China Study: Startling Implications for Diet, Weight-Loss and Long-term Health is the definitive resource for anyone considering a plant-based diet and, because of this, more than a half million people have picked up the book.

With the Hispanic community struggling with obesity rates like never before—for instance, Hispanic girls have 2-3 times the risk of having a high body mass index (BMI) than Caucasian girls of the same age—a plant-based diet can improve the health of an entire culture. This and many other facts nearly demand a release of The China Study Spanish-translation edition.
Praise For El Estudio de China: El Estudio de Nutrición Más Completo Realizado Hasta el Momento; Efectos Asombrosos En La Dieta, La Pérdida de Peso y La Salud a Largo Plazo…
Praise for The China Study:

"The China Study is the most important book on nutrition and health to come out in the last 75 years. Everyone should read it…"
—David Klein, Publisher/Editor of Living Nutrition Magazine

"Dr. Campbell and his son, Thomas, have written a lively, provocative, and important book that deserves widespread attention."
—Frank Rhodes, PhD, President (1978–1995) Emeritus at Cornell University

"Colin Campbell's The China Study is an important book and a highly readable one. The China Study is a story that needs to be heard."
—Robert C. Richardson, PhD, Nobel Prize Winner, Professor of Physics and Vice Provost of Research, Cornell University

"Clearly and beautifully written by one of the world's most respected nutrition authorities, The China Study represents a major turning point in our understanding of health."
—Neal Barnard, MD, President, Physician's Committee for Responsible Medicine

"Everyone in the field of nutrition science stands on the shoulders of T. Colin Campbell, who is one of the giants in the field. This is one of the most important books about nutrition ever written—reading it may save your life."
—Dean Ornish, MD, Founder & President, Preventive Medicine Research Institute, Clinical Professor of Medicine, University of California, San Francisco; Author of Dr. Dean Ornish's Program for Reversing Heart Disease and Love & Survival
BenBella Books, 9781935618782, 512pp.
Publication Date: May 29, 2012
About the Author
For more than 40 years, Dr. T. Colin Campbell has been at the forefront of nutrition research. His legacy, the China Study, is the most comprehensive study of health and nutrition ever conducted. Dr. Campbell is Jacob Gould Schurman Professor Emeritus of Nutritional Biochemistry at Cornell University. He has received more than 70 grant-years of peer-reviewed research finding and authored more than 300 research papers. The China Study was the culmination of a 20-year partnership of Cornell University, Oxford University, and the Chinese Academy of Preventive Medicine.

A 1999 graduate of Cornell University and recipient of a medical degree in 2010, Thomas M. Campbell II, MD, is a writer, actor, and four-time marathon runner. Born and raised in Ithaca, N.Y., he has appeared on stage in London, Chicago and most of the states east of the Mississippi River.