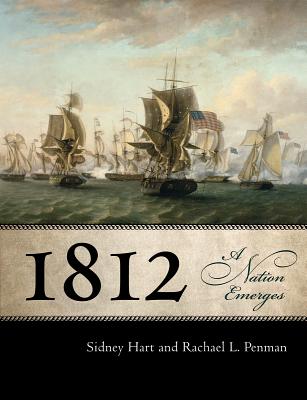 1812 (Hardcover)
A Nation Emerges
Smithsonian Institution Scholarly Press, 9781935623090, 284pp.
Publication Date: May 1, 2012
* Individual store prices may vary.
Description
The War of 1812 completed the struggle for American independence that began in 1776 and propelled a new nation forward. 1812: A Nation Emerges accompanies the National Portrait Gallery exhibition of the same name and features 115 color images, an introduction by one of the exhibition's curators, and two essays by leading historians. Marking the two-hundredth anniversary of the conflict, this book explores how the United States was transformed and unified by the individuals who took part in that seminal event. It provides an overview of the battles, the negotiations for peace, the aftermath--known as "the era of good feelings"--and the great commercial, industrial, and cultural expansion that followed, which to some marked the birth of the United States as a world power.
About the Author
Sidney Hart is the senior historian of the National Portrait Gallery of the Smithsonian Institution. He is editor of the Selected Papers of Charles Willson Peale and His Family (New Haven, Conn.: Yale University Press, 1983-2000). Rachael L. Penman is assistant curator of "1812: A Nation Emerges" at the National Portrait Gallery. Her previous work includes "Presidents-in-Waiting" (2009) at the National Portrait Gallery and "An Artist Visits the White House Past" (2011) for The White House Historical Association. She also serves as the collections manager and special events coordinator at the Crime Museum.
or
Not Currently Available for Direct Purchase