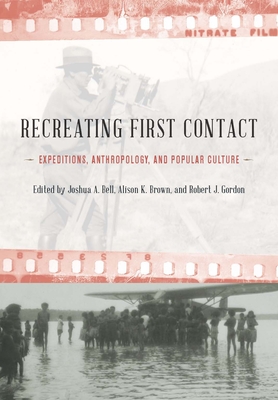 Recreating First Contact (Hardcover)
Expeditions, Anthropology, and Popular Culture
Smithsonian Institution Scholarly Press, 9781935623144, 275pp.
Publication Date: June 25, 2013
* Individual store prices may vary.
Description
Recreating First Contact explores themes related to the proliferation of adventure travel which emerged during the early twentieth century and that were legitimized by their associations with popular views of anthropology. During this period, new transport and recording technologies, particularly the airplane and automobile and small, portable, still and motion-picture cameras, were utilized by a variety of expeditions to document the last untouched places of the globe and bring them home to eager audiences. These expeditions were frequently presented as first contact encounters and enchanted popular imagination. The various narratives encoded in the articles, books, films, exhibitions and lecture tours that these expeditions generated fed into pre-existing stereotypes about racial and technological difference, and helped to create them anew in popular culture. Through an unpacking of expeditions and their popular wakes, the essays (12 chapters, a preface, introduction and afterward) trace the complex but obscured relationships between anthropology, adventure travel and the cinematic imagination that the 1920s and 1930s engendered and how their myths have endured. The book further explores the effects - both positive and negative - of such expeditions on the discipline of anthropology itself. However, in doing so, this volume examines these impacts from a variety of national perspectives and thus through these different vantage points creates a more nuanced perspective on how expeditions were at once a global phenomenon but also culturally ordered.
About the Author
Joshua A. Bell is Curator of Globalization in the Department of Anthropology, National Museum of Natural History, Smithsonian Institution. Combining ethnographic fieldwork with archival and museum based research, he has worked with communities of the Purari Delta, Papua New Guinea, on various projects regarding the history of their engagements with resource extraction. As part of this work he has, and is, carrying out projects on the visual and material histories in Papua and their legacies.

Alison K. Brown is a Lecturer in the Department of Anthropology, University of Aberdeen. She has undertaken fieldwork and museum-based research in western and subarctic Canada and northern Scotland on projects that address the ways in which artefacts and photographs can be used to think about colonialism and its legacies. She is co-author of Sinaakssiiksi aohtsimaahpihkookiyaawa/Pictures Bring us Messages: Photographs and Histories from the Kainai Nation (2006) with Laura Peers and members of the Kainai Nation, and is currently working on a book that addresses the relationships between First Nations and British museums.

Robert J. Gordon is a Professor of Anthropology at the University of the Free State in South Africa and the University of Vermont. His area focus is on southern Africa and Papua New Guinea. His eclectic interests range from violence, law, and state making/breaking to the media and dogs. Among his books are Law and Order in the New Guinea Highlands (1985) with Mervyn Meggitt, The Bushman Myth (1992), Tarzan was an Eco-Tourist (2006) co-edited with Luis Vivanco, and most recently, Going Abroad: Travelling like an Anthropologist (2010).
Praise For Recreating First Contact: Expeditions, Anthropology, and Popular Culture…
LIBRARY JOURNAL


It was during the interwar years that both still photography and film production became integral parts of anthropological, exploratory, and adventure travel expeditions. Anthropologists Bell (curator of globalization, anthropology dept., National Museum of Natural History, Smithsonian Inst.), Alison K. Brown (anthropology, Univ. of Aberdeen), and Robert J. Gordon (anthropology, Univ. of the Free State, South Africa) have compiled a collection of insightful scholarly essays that more or less chronologically document some important expeditions of those years, the films they produced, and the influence those films had on popular thought about what were then considered remote and exotic cultures. Many of the essays describe the interaction between expedition members and their native subjects. The documentary films produced by these expeditions sometimes reflected the anthropologists' or explorers' biases and quite often reinforced popular stereotypical ideas among viewers. The essays, each with copious notes and bibliographies, are fascinating and perceptive. They illuminate the growing importance of the production of visual images and films in anthropological research as the 20th century progressed. VERDICT A scholarly work that will be useful for anthropology and documentary film studies scholars and graduate students.—Elizabeth Salt, Otterbein Univ. Lib., Westerville, OH

CHOICE

This highly readable collection of relatively short chapters focuses on a fascinating and under-appreciated subject: anthropological filmmaking of the 1920s and 1930s. Thanks to technological innovations in both travel and filmmaking equipment, this period had an efflorescence of expeditions into previously un-filmed (if not exactly unknown) parts of the world, with the goal of improving the knowledge and understanding of human diversity. Contributors cover expeditions into several parts of the world (including Australia and New Guinea, several parts of Africa, and Siberia), draw connections from this work to both the "salvage anthropology" of earlier periods and the ethnographic tourism of today, and explore questions of authenticity while developing the specific details of their examples. Illustrations include film stills and other photographs (including some of the equipment used). Relevant not only for anthropology and film collections but also those focused on tourism and travel, the history of the interwar period, and visual and popular culture, this volume would make a nice pairing with studies of Hollywood historical films, such as Mark Carnes's Past Imperfect: History According to the Movies (CH, Apr'96, 33-4398). Summing Up: Highly Recommended. All levels/libraries -- F. W. Gleach, Cornell University

ANTHROPOS

The editors of this very interesting and animating book are looking at expeditions taking place mainly between the two world wars and their visual and material outcome. A complex array of questions about knowledge, colonialism, popular culture, and visual economies are put forward. The role of transport and recording technologies, salvage ethnography and first contact situations, collecting materials in the name of science, and producing images for the public at home are reviewed in the context of the formation of the first scientific societies and the building of international networks among explorers. ... The book thus has much more to say than what one fancies when reading the title only. The reader is taken on an expedition him/herself.
or
Not Currently Available for Direct Purchase