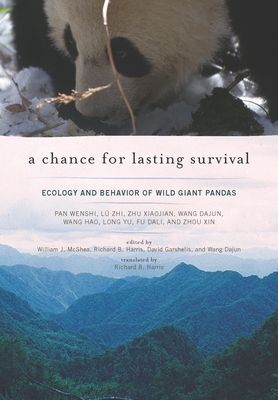 A Chance for Lasting Survival (Hardcover)
Ecology and Behavior of Wild Giant Pandas
Smithsonian Institution Scholarly Press, 9781935623175, 367pp.
Publication Date: March 4, 2014
* Individual store prices may vary.
Description
From 1984 through 1995 a small band of ecologists led by Pan Wenshi from Peking University conducted a study of wild giant pandas in the Qinling Mountains of Shaanxi Province. This project was the first Chinese-led conservation project in China and was conducted during a significant transition period in Chinese history, as the country opened its society and science to the world. The project focused on behavioral observation of wild giant pandas, but evolved to include physiology, nutrition, ecology, land-use policy, and population biology as the staff became more aware that the issues with captive pandas (assisted reproduction, unusual diet, and genetic inbreeding) were not the most critical to survival of wild populations. It is evident in this work that, as the scientists gained knowledge, they came to see giant panda conservation as wrapped in landscape ecology and human/wildlife interactions. The group was seminal in the Chinese government's enactment of a logging ban to their study area by advocating for pandas at the national level. The project was summarized in a 2001 volume, but its publication in Mandarin limited its influence on the greater conservation community. This English version of the original work translates, condenses, and refines the original volume, with added contextual chapters on the importance of this volume and how our understanding of giant panda conservation is shaped by this pioneering field work.
About the Author
WILLIAM J. MCSHEA is an ecologist who has worked at the National Zoo's facility in Front Royal, Virginia, since 1986. His research focuses on wildlife management and conservation of mammals and forests. He has numerous publications on wildlife ecology throughout the world and has worked and published on China wildlife since 2001. McShea has co-edited volumes on deer management, oak ecosystem management, and dry tropical forest ecology. He is co-chair of the IUCN Deer Specialist Group and a member of the IUCN Bear Specialist Group.

RICHARD B. HARRIS is a wildlife conservation ecologist and adjunct associate research professor of wildlife conservation at the University of Montana. He is also the editor-in-chief of Ursus, the international scientific journal of bear biology and management, and has written numerous journal articles, book chapters, and monographs about his research.

DAVID GARSHELIS is a wildlife research scientist with the Minnesota Department of Natural Resources (MDNR). Since 1983, as bear project leader, he has conducted studies of American black bears across their geographic range in Minnesota. Since 2004 Dave has served as co-chair of the IUCN Bear Specialist Group, coordinating worldwide conservation efforts on all species of bears.

WANG DAJUN is a wildlife biologist in the School of Life Sciences at Peking University in Beijing, China. His research focuses on the wildlife ecology of western China, specifically endangered species populations and habitat management under human disturbance. He began studying wild giant pandas in 1993 and is now regarded as one of the world's preeminent panda scholars.
Praise For A Chance for Lasting Survival: Ecology and Behavior of Wild Giant Pandas…
CHOICE

Encouraged by the findings from the Wolong panda studies (The Giant Pandas of Wolong, by G. Schaller et al., CH, Oct'85), Wenshi (Peking Univ.) and other Chinese wildlife biologists working under grueling conditions undertook the "first Chinese-led conservation project" in the country to study wild radio-collared pandas inhabiting the high-elevation regenerating forest in Qinling Mountains, Shaanxi Province.  They summarized/analyzed over 10 years of data, including research methodology, in a 2001 publication written in Mandarin Chinese.  Topics covered included population abundance, distribution and dynamics, dens, home range, movement migration, dispersal routes and activity location, activity budgets, behavioral relationships of mother and young, mating systems, and feeding strategies and nutrition relative to the various bamboo species.  A translation and updated version of this highly significant book makes previously inaccessible information on the life history and ecology of this world icon species, as well as its relationship to the biotic landscape and land use policy that impacts the survival of the species, available to a wide audience.  It is a valuable resource for readers in conservation biology, wildlife biology, and zoology. --R. L. Smith, West Virginia University

Summing Up: Highly recommended. Upper-division undergraduates and above.

Quarterly Review of Biology

I highly recommend this volume not only because it contains unique insights into the ecology of giant pandas, but also because it takes readers on a wonderful journey of scientific discovery that ultimately influenced key policy decisions. With the benefit of several decades of hindsight, the title of this book aptly reflects a story of hope.

Ecology

If you ever wanted to know what a small, dedicated research team could accomplish against insurmountable odds, then A Chance for Lasting Survival: Ecology and Behavior of Wild Giant Pandas is the book for you... this recent excellent translation and revision opens up the world of the giant panda as experienced by a vanguard research team led by Wenshi Pan during the 1980s and 1990s... a clear, meaningful window into the ecology and conservation of this iconic species.
or
Not Currently Available for Direct Purchase