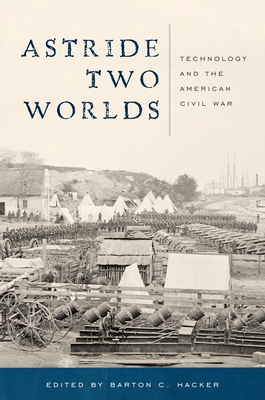 Astride Two Worlds
Technology and the American Civil War
Hardcover

* Individual store prices may vary.
Description
By the middle of the nineteenth century, industrialization and military-technological innovation were beginning to alter drastically the character and conditions of warfare as it had been conducted for centuries. Occurring in the midst of these far-reaching changes, the American Civil War can justly be labeled both the last great preindustrial war and the first major war of the industrial age. Industrial capacity attained new levels of military significance as transportation improved, but in this, as in many other respects, the Civil War was distinctly transitional. Smoothbore artillery still dominated the battlefield, horse-drawn wagons and pack mules still carried the main logistic burden, seamstresses still outnumbered sewing-machine operators. Astride Two Worlds addresses the various causes and consequences of technological change for the course and outcome of the American Civil War.
Smithsonian Institution Scholarly Press, 9781935623915, 288pp.
Publication Date: May 3, 2016
About the Author
Barton C. Hacker, Ph.D. (University of Chicago, 1968), is senior curator of armed forces history in the Smithsonian Institution's National Museum of American History. He is also the founding editor of Vulcan: The International Journal of the Social History of Military Technology. He has lectured widely and published on the histories and historiographies of military technology, non-Western military institutions, women and armies, nuclear weapons testing, and manned spaceflight. In 2003 he received the Leonardo da Vinci Medal of the Society for the History of Technology.
or
Not Currently Available for Direct Purchase