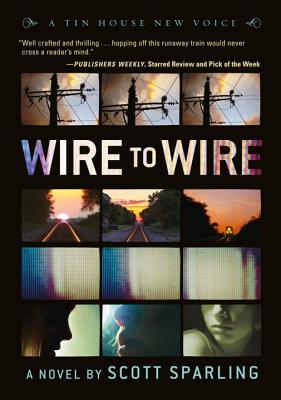 Wire to Wire
Paperback

* Individual store prices may vary.
Description
With its cast of train-hopping, drug-dealing, glue-huffing lowlifes, Scott Sparling's debut--an homage to the American crime novel--chronicles the lives of damaged people doing their meager best and often finding the worst.
Wire to Wire assembles a cast of train-hopping, drug-dealing, glue-huffing lowlifes, in a stunning homage to one of our most popular enduring genres—the American crime novel. While riding a freight car through Detroit, Michael Slater suffers a near-fatal accident—a power line to the head. After a questionable recovery and a broken relationship, he abandons his new home in the Arizona desert, though not before leaving a man for dead. Slater returns to Michigan in a busted-up Ford to reunite with an old train-hopping pal, but quickly discovers that the Pleasant Peninsula of his youth is none too pleasant. As Slater's past catches up with his present—a love triangle, a local drug dealer, the damaged residents of a destitute Northern Michigan town—rock bottom keeps slipping farther away. Three years later, Slater sits in a dark video-editing suite, popping speed like penny candy, attempting to reconcile himself with the unfilmed memories that haunt his screens and his conscience.
Praise For Wire to Wire…
Sparling's debut is well crafted and thrilling, tying together an obvious love for both Michigan and railroads with an expert sense of timing and plot. The world he has created is both overwhelming and exhilarating, thanks in no small part to a large ensemble of memorable characters and a relentless pace. Indeed, hardly a page goes by without some sort of fantastic calamity throwing Slater and company into further turmoilwhen the most peaceful passages of the story are speed-addled, that's saying somethingbut it's done so well that hopping off this runaway train would never cross a reader's mind."
Publishers Weekly, Starred Review and Pick of the Week

A strange, formidable novel about crossed signals and damage done, with plenty of peek-between-your-fingers moments for good measure."
Kirkus Reviews

Sparling creates compelling, many-faceted characters and a nuanced portrait of a beautiful and tragic place. His writing is self-assured, suffused with a streetwise insouciance, always edgy, and frequently lyrical, particularly on the pleasures of riding the rails to find some kind of peaceor escape."
Booklist

"In this impressive debut, Scott Sparling lends contemporary grunge to the genre as he embraces its trademark obsessions with sex, cash and dead ends. His all-too-human cast of contemporary boxcar drifters, glue sniffers and thugs is drawn in an impressionistic style that makes for stunning emotional depth."
Playboy

Smart, thrilling, and darkly funny . . . it reads like lightning . . . a muscular cross between Jim Thompson and Cormac McCarthy."
The Oregonian

[Scott Sparling's] first novel moves along at a gallop, as a gallery of misfits, fuckups, and outright crooks circle around a shady criminal enterprise in the northern tip of Michigan's Lower Peninsula."
Portland Mercury

Electric . . . it crackles."
The Cleveland Plain Dealer

An exciting chase through the mind and through Michigan . . . you don't want to hop off or even go to the club car for a fast drink."
LansingOnlineNews.com

The characters are as complex as the plot and Sparling does a masterful job of tangling them up while keeping the details lucid and telling."
The Collagist

Wire to Wire ends up being what so many pulp writers think they're making but end up missing: an exploration of the proper aims of existence."
Open Letters Monthly

It's rare to find so many interesting and compelling characters in a single book. Wire to Wire, the first novel from Portland-based author Scott Sparling, shines."
Portland Book Review

"In the tradition of the great noir novels, Wire to Wire, is really
something. Like being in a stolen car with no brakes in a world of train
hopping, sex, violence, and drugs. It's all edge from start to finish."
Willy Vlautin, author of The Motel Life

Scott Sparling writes like a man on fire, and Wire to Wire is the wickedly brilliant crime novel forged in the white-hot heat of his talent. It's an electrifying debut by a writer who knows the wrong side of town like the back if his hand. People, if there is a God, this book will win prizes."
Donald Ray Pollock, author of Knockemstiff and The Devil All the Time

Sparling's spare prose comes with a glint of wit and a persistent quirky intelligence that does two singular things--it completely seduces the reader and convincingly asserts that even the most hapless among us lead rich and complicated lives."
HTML Giant
Tin House Books, 9781935639053, 375pp.
Publication Date: May 24, 2011
About the Author
Scott Sparling grew up near railroad tracks in Michigan. He now lives outside Portland, Oregon, with his wife and son. Wire to Wire is his first novel.
or
Not Currently Available for Direct Purchase