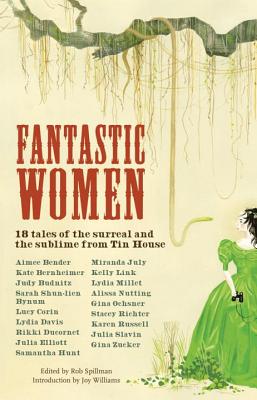 Fantastic Women
18 Tales of the Surreal and the Sublime from Tin House
Paperback

* Individual store prices may vary.
Description
Featuring work by some of the most exciting contemporary women writers in the United States, Fantastic Women comprises eighteen inventive, insightful narratives steeped in a heady potion of surrealism and macabre black comedy.
Meet the daughters of Franz Kafka, Mary Shelley, the Brothers Grimm, and Angela Carter. Fantastic Women assembles the work of eighteen inventive, insightful women authors who steep their narratives in a heady potion of surrealism and macabre black comedy. The results are wildly creative stories that capture the truth about human nature far more than much of the fiction (or, for that matter, the nonfiction) being written today. Why just women? More and more women writers are creating work that not only pushes the envelope but also folds realistic fiction into an origami dragon, transporting readers into worlds we've never seen before and digging deeper into the psychic bedrock than their male counterparts. So slip into a pocket universe, drive through a family's home, awake in the night to find you've become a deer, and dive into the ocean to join your mermaid mother. We can't imagine ever wanting to escape this spellbinding world, but if you must, best leave a trail of crumbs along your way.
Praise For Fantastic Women: 18 Tales of the Surreal and the Sublime from Tin House…
Storiessubtly disturbing, ruthlessly brilliantby eighteen top-of-the-trend writers."Ursula K. Le Guin

Compellingly weird and weirdly compelling narratives."
Publishers Weekly

Reinventing surrealism and pushing fiction's boundaries . . ."
Ms. Magazine

"Fantastic Women is a book you want to keep close to you at all times. Reading it made me feel I was inside the imaginations of 18 wildly talented writers. What fantastic company they make."Vendela Vida, author of The Lovers and Let the Northern Lights Erase Your Name

"Fantastic Women puts on a clinic of what's possible in the short story today. And 'fantastic' is an understatement. The best anthology I've read in years."Ben Marcus

"That the future is female is nowhere more thrillingly beholdable than in the dominion of literary fiction, where women writers' rejection of rote realism and received forms has cleared the way for visionary misadventure, soulful weirdness, and verbal outlandishments of the highest order. The page-by-page grit and shimmer of these stories, the unlidded imagination and teeming wisdom of these bold and unpredictable writers, reanimate our language and our literature. Here at last is an anthology that's all guts and all gusto, motioning forcibly toward the new world that all of us--women and men alike--had better know now or never."Gary Lutz, author of Stories in the Worst Way and I Looked Alive
Tin House Books, 9781935639107, 270pp.
Publication Date: July 26, 2011
About the Author
Rob Spillman is editor of Tin House magazine and executive editor of Tin House Books. He was previously the monthly book columnist for Details magazine and is a contributor of book reviews and essays to Salon and Bookforum. He has written for the Baltimore Sun, the Boston Review, British GQ, Connoisseur, Details, Nerve, the New York Times Book Review, Premiere, Rolling Stone, Spin, Sports Illustrated, SPY, Vanity Fair, Vogue, and Worth, among other magazines, newspapers, and online magazines. He has also worked for Random House, Vanity Fair, and the New Yorker.

Joy Williams is the author of four novels, four previous story collections, and the book of essays Ill Nature. She's been nominated for the National Book Award, The Pulitzer Prize, and the National Book Critics Circle Award. Her most recent title is The Visiting Privilege: New & Collected Stories. She lives in Tucson, Arizona, and Laramie, Wyoming.