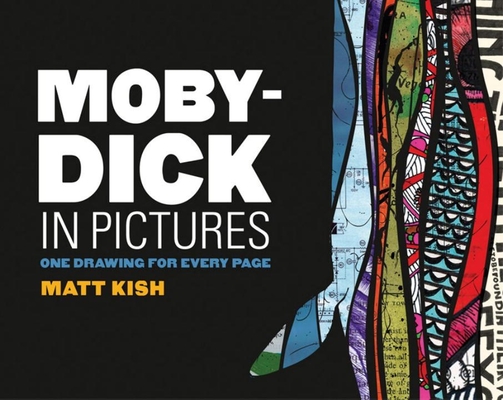 Moby-Dick in Pictures (Paperback)
One Drawing for Every Page
Tin House Books, 9781935639138, 600pp.
Publication Date: October 11, 2011
Other Editions of This Title:
Hardcover (10/4/2011)
* Individual store prices may vary.
Description
A collection of illustrations inspired by lines from every single page of the 552-page Signet Classics paperback edition of Herman Melville's Moby-Dick
Inspired by one of the world's greatest novels, Ohio artist Matt Kish set out on an epic voyage of his own one day in August 2009. More than one hundred and fifty years following the original publication of Moby-Dick, Kish began illustrating Herman Melville's classic, creating images based on text selected from every page of the 552-page Signet Classics paperback edition. Completely self-taught, Kish refused to set any boundaries for the artwork and employed a deliberately low-tech approach in response to the increasing popularity of born-digital art and literature. He used found pages torn from old, discarded books, as well as a variety of mediums, including ballpoint pen, marker, paint, crayon, ink, and watercolor. By layering images on top of existing words and images, Kish has crafted a visual masterpiece that echoes the layers of meaning in Melville's narrative. In retrospect, Kish says he feels as foolhardy as Ishmael, the novel's narrator, and as obsessed as Captain Ahab in his quest for the great white whale. "I see now that the project was an attempt to fully understand this magnificent novel, to walk through every sun-drenched word, to lift up all the hatches and open all the barrels, to smell, taste, hear, and see every seabird, every shark, every sailor, every harpooner, and every whale," he says. "It was a hard thing, a very painful thing, but the novel now lives inside me in a away it never could have before." Kish spent nearly every day for eighteen months toiling away in a small closet he converted into an art studio. In order to share the work with family and friends, he started the blog "One Drawing for Every page of Moby-Dick," where he posted art and brief description about his process on a daily basis.
About the Author
Matt Kish was born in 1969 and lives in the middle of Ohio. After stints as a cafeteria cook, a hospital registrar, a bookstore manager, and an English teacher, he ended up as a librarian. He draws as often as he can, often with whatever he can find. He has tried his hand at 35mm black-and-white photography (with real film and real chemicals), making comics and zines, a bit of collage, and lots of pen and ink. Moby-Dick is his favorite novel.
Praise For Moby-Dick in Pictures: One Drawing for Every Page…
Not so much honored as reimagined, Moby-Dick in Kish's hands is the vertiginous immersive experience Melville intended."
Bookforum

In an age of soulless, cookie-cutter computer illustrations, Matt Kish's intense and obsessive drawings, paintings, and montages are a riotous delight. Kish's artwork renews our age-old love of expressive handmade imagery. He humanizes his material in way that has all but disappeared from the design scene. It's great to see that passion again."
Paula Scher, Pentagram

[A] wondrous compendium . . . sometimes vibrant, sometimes somber, Kish's images are relentlessly fresh and eye-catching . . . Even the least visual readers will feel energized by Kish's artistry and his obvious passion for Melville's work."
Library Journal

"Conjuring the frenetic energy of tempest-tossed waves so integral to Moby-Dick's setting, the artist's bold, full-page drawings in highly saturated colors illustrate passages he's called out, but also extend the narrative to suggest that modern-day man hungers to fulfill his self-proclaimed destiny every bit as much as the legendary whalers did....clearly infused with an intense joy that only comes from following one's heart."
ForeWord Book Reviews

I'm in love...with Kish's art work....Who knows, Matt Kish may be the impetus to finally read Moby-Dick."
Contemporary Literature

"Woven of equal parts visual mastery and creative bravery, Moby-Dick in Pictures is a treasure in and of itself, one that not only pays homage to Melville, but also reimagines what it means to embark on a modern-day epic voyage of creative restlessness."
The Atlantic


"Kish has done something really fascinating [in Moby-Dick in Pictures]. He has not only re-imagined Moby Dick for a modern audience. He has also slyly, almost imperceptibly, yanked this nineteenth century novel into the twenty-first century, underlining its relevance for the post-post-modern world. These illustrations are not simply a sideshow to the novel: they are a well-thought out pleasure that enhances the enjoyment and understanding of Melville's work."
The Rumpus

"The overall impact of Moby-Dick in Pictures is stunning..."
The Oregonian