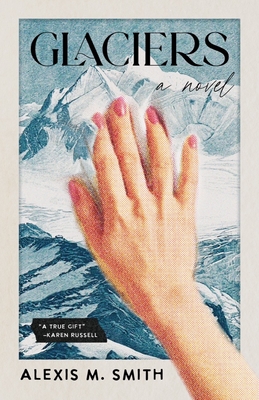 Glaciers
Paperback

* Individual store prices may vary.
Other Editions of This Title:
Digital Audiobook (8/27/2012)
Description
Glaciers unfolds internally, recalling the work of writers such as Jean Rhys, Marguerite Duras, and Virginia Woolf, and portrays how the fleeting moments of one day can reveal an entire life.
Isabel is a single, twentysomething thrift-store shopper and collector of remnants, things cast off or left behind by others. Glaciers follows Isabel through a day in her life in which work with damaged books in the basement of a library, unrequited love for the former soldier who fixes her computer, and dreams of the perfect vintage dress move over a backdrop of deteriorating urban architecture and the imminent loss of the glaciers she knew as a young girl in Alaska. Glaciers unfolds internally, the action shaped by Isabel's sense of history, memory, and place, recalling the work of writers such as Jean Rhys, Marguerite Duras, and Virginia Woolf. For Isabel, the fleeting moments of one day can reveal an entire life. While she contemplates loss and the intricate fissures it creates in our lives, she accumulates the stories—the remnants—of those around her and she begins to tell her own story.
Praise For Glaciers…
An Alaska childhood and dreams of faraway cities such as Amsterdam inform Alexis M. Smith's Glaciers, a delicate debut novel set in Portland, Oregona slick fog of a citydrenched in itself"that reveals in short, memory-soaked postcards of prose a day in the life of twentysomething library worker Isabel."
Lisa Shea, ELLE


"Glaciers, Alexis Smith's brilliant debut novel, is filled with kaleidoscopic pleasures. Using prose as clear as pure, cold air, Smith moves the narrative vertically as well as horizontally, each ticking minute yielding more insights into a young woman's life revealed over one single day. The past, present, and imaginary future stream into beautifully unstable geometries: Isabel's childhood snows from her youth in Alaska are juxtaposed against her adult trip to a vintage thrift store; her hopes for an evening party push against the echoes of war that haunt a young soldier whom she loves. Line by line, in and out of time, this is a haunted, joyful, beautiful book--a true gift."
Karen Russell, author of Swamplandia!


"A delicate and piercing first novel. Glaciers is like a vintage dress: charming, understated and glinting with memories of loneliness and love."
Jane Mendelsohn, author of I was Amelia Earhart and American Music


Glaciers is a carefully precise and beautiful meditation on one young woman's restless heart. It resonates like a haunting postcard from someone else's life."
Kevin Sampsell, author of A Common Pornography


"How appropriate that on the last page of this spare, beautifully written first novel, one character asks another, Tell us a storyabout longing." For longing defines the life of Isabel, who grows up on Cook Inlet in Alaska and, after a trip to towering Seattle, begins collecting postcards from other cities, among them Paris, Budapest, and Barcelona. As an adult, Isabel finds a postcard depicting Amsterdam at a junk store she frequentsshe loves old things; her job is restoring damaged books at a libraryand is astonished to find that the postcard was actually sent. The card carries a message that inspires her to construct a story about sender and recipient. Isabel needs to work a little harder to construct her own story, though; an ungainly child, she's still tentative about relationships and gingerly approaches Spoke, a colleague at the library who served in Iraq. A series of events, one involving a note about Amsterdam left in a book she's repairing, wheels her gracefully in a different direction."
Barbara Hoffert, Library Journal


"Smith's debut unspools in delicate links of linear thought, told (mostly) in deceptively simple sentences embedded in the consciousness of Isabel, born in the Pacific Northwest and raised in Alaska with her older sister. Isabel dreams of Amsterdam and, though she has never been, and probably will never go," she believes everything is perfect there. The story ostensibly covers a single day, but Isabel's recorded memories reach back to childhood, with incidents in between like a camping trip, an interaction with an astrologer, and a consequential encounter with an immense glacier. Isabel's love of books leads her to get a job at the library, where she falls for co-worker Spoke," an Iraq war veteran whose sudden re-enlistment casts a long shadow, turning Isabel introspective at the festive party she'd planned to attend with him: 'Spoke is already halfway across the country, where people are making breakfast, letting dogs out onto dewy lawns, boarding busses and trains for downtowns, lining up in coffee shops," she thinks, while [i]n Amsterdam, it is already a lovely afternoon, the leaves turning, fall about to break.' This slim book's lovely design respects and enhances Smith's voice, with ample white space on every page and a general eschewing of commas and quotation marks. Lyrical and luminous."
Publishers Weekly, Starred Review and Pick of the Week


"Alexis M. Smith's Glaciers is a quietly powerful fairy tale. Smith's voice, patient and understated and precise captures the poetry of loss and longing."
Cara Hoffman, author of So Much Pretty


"I cannot easily remember the last time I've been so deeply moved as in this quiet treasure."
Douglas A. Martin, author of Once You Go Back


The story is one of longing: longing for a life in a faraway city, for the love of a co-worker to be requited, for a closet full of vintage dresses. The book takes place over the course of one day in twenty-something Isabel's life, with glimpses of her past remembered in-between. The present is used as a point of reference for the past, and although the story moves back and forth, the prose reads smooth like running water."
Alyssa Roibal, The Rumpus


Smith's toggling between fleeting moments and lasting belongings resonates through a quiet and careful balance."
Emily Booher, Willamette Week


This weaving together of the personal, the sentimental, the environmental, and the trivial gives Smith's unassuming first novel surprising emotional weight."
Alison Hallet, The Portland Mercury


In short novels like this one, every word has added resonances, and Smith has taken careful measure of every passage, testing each line for symbolic effect."
Minneapolis Star Tribune


Sweet and sparse, Glaciers resonates humanity in the little details. Rather than cluttering a simple message with overly fancy prose and convoluted plot points, Glaciers holds fast to simplicity, letting Isabel sing through the pages. The descriptiveness of her life, and the understated elegance of the novel allows us to feel the relatability of the characters, and the tiny details all compound upon one another to lend us the climactic moment for which we read. Glaciers takes a risk in that Isabel comes alive through the world around her first, rather than in her actions, but it's done well. Glaciers manages to present not only a plot that is familiar in the fact that it is real and tangible, but also a full range of emotions that promises to tug at your heartstrings at least once." iswimforoceans.com


The prose is wistful yet crystal-cut in a way that makes the internal monologues and thoughts sparkle, and the vivid memories flesh out the story of one day in the life."
Side B Magazine


A delight, this book. A tiny delight, a beautifully-made thing, that breathes, has a life to it."
Schietree


In Glaciers, we follow a young woman named Isabel through the course of one day in Portland. She goes to work and to a party. She buys a dress from a vintage store and summons the courage to act on a crush. Woven through all of this are memories from her Alaskan past, which together form a rich counterpoint of her inner and outer lives."
Oregon Public Broadcasting


In her debut novel, Alexis Smith shines light on these 'little things,' thereby transforming Isabel's world into something more beautiful yet complicated."
booksnfreshair


'Glaciers' is written in a simple yet lyrical style, with the text surrounded by plenty of white space on the page, appropriately reminiscent of the way poetry is printed. The short time frame just one day compresses the story of Isabel's life and gives it a powerful immediacy. You can think of this book as functioning as vintage postcards do: fascinating images coupled with intriguing messages that suggest a much longer and deeper story than their relatively few words convey."
Under the Covers


Take advantage of a lazy morning or afternoon and read this delightful debut novel from a new voice among Portland authors."
Northwest Book Lovers


This lovely, contemplative novel packs a bigger emotional punch than its size suggests. As with the title metaphor, so much resides under the surface of who we are in public, what we say, and what we do. Honest, bittersweet reflection makes Glaciers perfect reading to startthe new year."
Ariana Paliobagis, Country Bookshelf, Bozeman, MT


This is an incredibly moving piece of writing, and Alexis M. Smith is an acute storyteller, and her attention to details is nothing short of stunning."
Chicago Ex-Patriate


Glaciers is like a little analogue warmth in a cold digital world, like listening to vinyl, or posting a letter in the mail. It is a story that resonates and humanizes, and seeks to connect."
Write On!
Tin House Books, 9781935639206, 112pp.
Publication Date: January 17, 2012
About the Author
Alexis M. Smith grew up in Soldotna, Alaska, and Seattle, Washington. She received an MFA in creative writing from Goddard College. She has written for Tarpaulin Sky and powells.com. She has a son and two cats, and they all live together in a little apartment in Portland, Oregon.