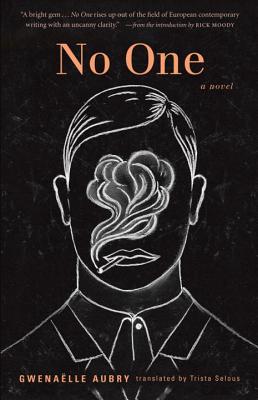 No One (Paperback)
Tin House Books, 9781935639220, 170pp.
Publication Date: January 24, 2012
* Individual store prices may vary.
Description
Cleaning up her father's home after his death, Gwenaelle Aubry discovered a handwritten, autobiographical manuscript with a note on the cover: "to novelize." The title was The Melancholic Black Sheep, but the subtitle An Inconvenient Specter had been crossed out. The specter? Her father's disabling bipolar disorder. Aubry had long known that she wanted to write about her father; his death, and his words, gave her the opportunity to explain his many absences--even while he was physically present--and to sculpt her memory of him. No One is the portrait of a man without a true self; a one-time distinguished lawyer and member of the Paris bar who imagined himself in many important roles--a procession of doubles, a population of masks--who became a drifter and frequent visitor to mental institutions. Moving between the voices of daughter and father, this fictional memoir in dictionary form investigates the many men behind the masks, and a unified portrait evolves. A describes her father's adopted persona as Antonin Artaud, the poet/playwright; B is for James Bond; H is for homeless; and, finally, Z is for Zelig, the Woody Allen character who could transform his appearance to that of the people around him. Letter by letter, Aubry gives shape and meaning to the father who had long disappeared from her view. The whole is a beautifully written, vivid exploration of a particular experience of mental illness and what it can reveal more generally about human experience.
Praise For No One…
"The question of identity haunts Aubry's slim, tough novel about a Parisian lawyer suffering from bipolar disorder...virtuosic sentences and ingenious structure...the reader feels privileged to gain access to these troubled minds."
New York Times Book Review

"Aubry's sense of the human condition is both startling in its originality and sharp in its beauty: the reader might find himself reading a book that is in fact reading him back, in that what we learn...may apply to everyone searching for their authentic self."
Leia Menlove, Foreword Reviews

"Aubry's lucid prose has ascended to the heights of poetry."
Publishers Weekly

Madness may, as Gwenaelle Aubry writes, name nothing, in reality,' but her Personne definitively conjures its somethingmakes it tenderly felt in all its mystery, horror, and sorrow. Standing between the hard reckoning of autobiography and that which implores, melancholically, to be novelized,' Personne pushes softly at the limits of what life-writing can be. It is a work of remarkable understatement and earned majesty, both."
Maggie Nelson, author of Bluets and The Art of Cruelty

Gwenaëlle Aubry's Personne is a beautifully rendered and conceived
work. Structured like a duet, with writing by her dead father and
herself, Personne is about the search for a wanderer father in the
morass of his unstable identity. It is an impassioned novel, a
psychoanalytic double session, an examination of the limits of
language, and an act of filial devotion."
--Lynne Tillman, author of Someday This Will Be Funny


The words are simple yet offer tremendous power. The fact is: we want to dog ear every page to relive certain moments, those certain expressions that put our hair on end"
Le Figaro Litteraire

"A testimony bereft of pathos[No One] achieves a double portrait: that of a fragmented man searching desperately for unity through writing, and that of a daughter who will succeed where her father failed by making him a novel's hero"
Magazine Litteraire

"A cubist and polyphonic portrait, ridden with elegance and restraint, [No One] is a two-fold autobiography of a father and daughter, its threads are delicately woven with impressions, memories and language that recreate the figure of complex and engaging man, stranger to the world- yet, also stranger to himself"
Le Monde des Livres

"Her (Gwenaëlle Aubry's) words, persistent and fixed in the glance of she who cannot save him, resemble a string of melancholy diamondsmay she be reassured: with this powerful book, she pays her debt of love in full"
Le Point

Page after page, with meticulousness and infinite tenderness, [Aubry] probes the biography, perspective, staggering failures, and the terrors of this man."
Télérama

[Aubry's] admirable book, woven with uncertainty, is altogether an intimate investigation, a declaration of love, homage, and tomb."
Télérama
or
Not Currently Available for Direct Purchase