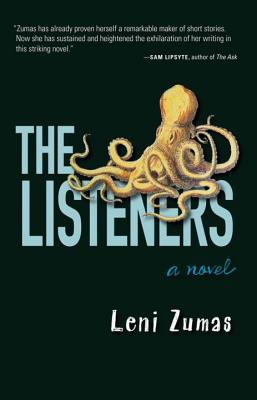 The Listeners (Paperback)
Tin House Books, 9781935639299, 350pp.
Publication Date: May 15, 2012
* Individual store prices may vary.
or
Not Currently Available for Direct Purchase
Description
Hypnotic and profoundly disquieting, The Listeners explores a far-out world where a patchwork of memory, sensation, and imagination maps the flickering presence of ghosts. This is the story of a woman whose life is shaped by tragedy. Quinn is thirtysomething, a survivor of a fractured and eccentric childhood marred by the death of her younger sister. Twenty years later, she is in the midst of a decade-long slide down the other side of punk-rock stardom after her successful music career was abruptly halted. Sassy and smart, tough but broken, Quinn is at loose ends. She develops unique strategies for coping, but no matter what twisted tactic Quinn conjures to keep her psyche intact, she cannot keep the past away. The Listeners is about what lurks in the shadows and what happens when what's lurking insists on being seen. Leni Zumas portrays a world twisted on its axis by loss, in all its grotesque beauty. From the first line the prose is glorious: pricklingly honest and hallucinatory, a lucid dream world realized. The Listeners marks the debut of a major American writer.
About the Author
Leni Zumas s story collection, "Farewell Navigator," was published by Open City in 2008. Her fiction has appeared in numerous journals, including "Quarterly West," "Open City," "Salt Hill," "New Orleans Review," "Keyhole," and "New York Tyrant.""
Praise For The Listeners…
"Throughout, Zumas mixes up language like Quinn mixes up senses, and the effect is sublime. Quinn observes 'spruce girls with calamity cuts' and describes two other characters 'chattering like teeth in love.' She classifies herself as 'the boyest' among her siblings, and remembers playing to a crowd 'bred in the suburbs but wild to catch a plague of streets.' The energy of these phrases lend a vital spark to the story as Quinn weaves dizzily between past and present. There's a twisted sort of hope in there, too, among the pain and loss. But should you pick up The Listeners (and you should!), expect both a wrenched gut and a rent heart." Shelf Awareness

"Zumas' fiction captures tactile experience much like vinyl captures sound: pure and full. Her words are never simply words. They are imprints of beat, tone, color, body, and texture." Flaunt

Leni Zumas [is]...a formidable, idiosyncratic new voice in American fiction. The Listeners...feel like flashes of illumination...The prose is beautiful."Portland Monthly


"Zumas' debut reads a bit like Faulkner. . . . Readers looking for gritty experimental fiction in the manner of the late Gilbert Sorrentino will find The Listeners whetting their appetites for more from this promising new author."
Booklist


"Zumas's debut novel comes at the reader in over a hundred self-contained, lucid pieces....creating a compelling build-it-yourself tapestry of cherished memories and open wounds."
Publishers Weekly

". . . The Listeners is a well-imagined and convincing example of the spiraling of pain and loss and memory. The grief that comes back to haunt. The joys, too. The creativity that burns out against the grief. It tells of how the impact of violent death and injury are recursive, that the traces found everywhere, even if the origins seldom named. That the world is full of these sorts of present absences. And it does it in an unflinching way. Without having read this, I would still have known these things, but I would not have known them quite so vividly, viscerally, behind my blurring eyes. A good book that fizzed in the blood."
PANK

"Zumas has already proven herself a remarkable maker of short stories. Now she has sustained and heightened the exhilaration of her writing in this striking novel."Sam Lipsyte, author of The Ask

"Leni Zumas's visceral debut novel is a darkly funny and disturbing rager. Weaving a dreamlike coming-of-age story with the melancholic tales of a rock band self-destructing and a family's loss, Zumas's deft language careens through the lives of her characters with killer sentence after killer sentence. It's a crushing, dazzling performance."Kevin Sampsell, author of A Common Pornography
Advertisement