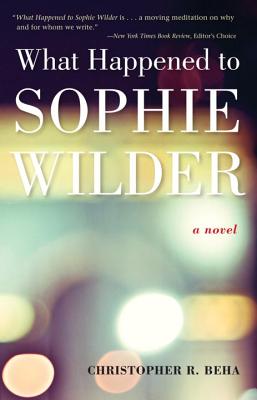 What Happened to Sophie Wilder (Paperback)
Tin House Books, 9781935639312, 253pp.
Publication Date: May 29, 2012
Other Editions of This Title:
MP3 CD (7/12/2016)
* Individual store prices may vary.
Description
Charlie Blakeman has just published his first novel, to almost no acclaim. He's living on New York's Washington Square, struggling with his follow-up, and floundering within his pseudointellectual coterie when his college love, Sophie Wilder, returns to his life. Sophie is also struggling, though Charlie isn't sure why, since they've barely spoke, after falling out a decade before. Now Sophie begins to tell Charlie the story of her life since then, particularly the story of the days she spent taking care of a dying man with his own terrible past and of the difficult decision he forced her to make. When she disappears once again, Charlie sets out to discover what happened to Sophie Wilder. Christopher Beha's debut novel explores faith, love, friendship, and, ultimately, the redemptive power of storytelling.
About the Author
Christopher R. Beha is an associate editor at "Harper s Magazine" and the author of a memoir, "The Whole Five Feet." He contributes frequently to the "New York Times Book Review." "What Happened to Sophie Wilder" is his first novel.

"
Praise For What Happened to Sophie Wilder…
Minneapolis Star Tribune names What Happened to Sophie Wilder one of the Top Ten Books of the Year.

"What Happened to Sophie Wilder is about many thingsthe New York publishing world, the growing pains of post collegiate life, the rigors of Roman Catholicismbut at its center its a moving meditation on why and for whom we write." New York Times Book Review

"In this smart short novel What Happened to Sophie Wilder by Christopher R. Beha, a young writer deals with the reappearance and disappearance of the woman he sometimes loved." Oprah Magazine

"Christopher R. Beha's beautiful, whip-smart first novel . . . is sober, unsentimental and delivered with intelligence and passion." Washington Post

"What Happened to Sophie Wilder is a remarkable first novel, which should especially be read by those who have given up on contemporary literature. Along with giving them something good to read, it will renew their faith in what literature is capable of achieving." Commentary

[T]his novel is excitingly alert . . . to the ways we understand life in terms of stories, in particular the stories we tell about other people - whether to keep them at a safe distance or to bring them closer to us. More, it's alert to our alertness of this. The story Beha tells about Charlie and Sophie is a convincing contemporary love story, not in spite of its sometimes dizzying self-awareness but, in large part, because of it."San Francisco Chronicle

"Christopher Beha's What Happened to Sophie Wilder is a wonderful novelsmart, sly and lucid, a story about belief in all its forms that is wholly satisfying and quietly thrilling."
Jess Walter, author of Beautiful Ruins

"Beha's writing is clean, unpretentious, and commanding in its seeming simplicity. He knits Chralie and Sophie's stories together in a seamless, intricate weave, offering an exploration of just how powerful stories can be." Foreword Magazine

"A crisis of faith is key to the disappearance of a young woman in Christopher Beha's What Happened to Sophie Wilder (Tin House), which deftly renders the competing impulsescreative, intellectual, emotionalof young writers in New York."Vogue

Christopher Beha's short but intricately constructed first novel tells the story of two young writers struggling to discover their personal and professional identities, but it's not another excursion through the world of New York's literati. Instead, What Happened to Sophie Wilder is a somber character study focused on the problem of human suffering, the nature of religious belief and the acceptance of moral responsibility.Shelf Awareness

"Beha's debut novel (after the memoir The Whole Five Feet) is a thoughtful journey about the place of intellectual curiosity in relation to faith, friendship, and love."Publishers Weekly

"Complex in structure, plot, and characterization, this promising debut will appeal to fans of literary fiction and the literary scene."Booklist

"Christopher R Beha's What Happened to Sophie Wilder manages, somehow,
to read both like an auspicious debut and a veteran achievement: it
offers at once the vivid, old-fashioned pleasures of a classic
bildungsroman and a frighteningly intelligent contemporary take on the
ambitions and limits of storytelling and faith. It's a glass-and-steel
penthouse on a foundation of oak, and the most memorable first novel
I've read in some time."Gideon Lewis-Kraus, author of A Sense of Direction

What Happened to Sophie Wilder is an old fashioned literary novel in
the very best sense--thoughtful and intellectual, moving and
well-wrought. Like its restless, yearning characters, it's not afraid
of the big questions, God and love, work and love, friendship and
love, and yet the solace this impressive debut finds lies as deeply in
the page as in the flesh or the spirit. Beha has managed to produce a
book that is satisfying for anyone who reads in order to live."
Helen Schulman, author of This Beautiful Life

"What Happened to Sophie Wilder is an imperishable gift of
storytelling, a novel built sturdily of wisdom, beauty, and love.
Christopher R. Beha writes with Jamesian sophistication about the
enduring enigma of our inner lives, and the result is a title
character who will dwell in you always." William Giraldi, author of Busy Monsters

"It takes courage to write a book placing sincere religious feelings at the very center of contemporary young, urban life. Chris Beha--a writer mature beyond his years--has done just that in What Happened to Sophie Wilder, a modern fable of faith and doubt, ambition and love, written with tender sentiment and striking moral intelligence. Open this book and you'll find the grain of our talk and the soul of our thought rendered at once exotic and utterly recognizable.Jon Raymond, author of Rain Dragon

"What Happened to Sophie Wilder is subtle, surprising and, finally, urgent.... Expect it to vibrate in your breastbone." Cleveland Plain Dealer

"[Beha] crafts a suspenseful story full of twists and turns at the same time that he offers believers a way of moving beyond seeing fait as 'an embarrassment to their own reason and intelligence.'" Rain Taxi
or
Not Currently Available for Direct Purchase