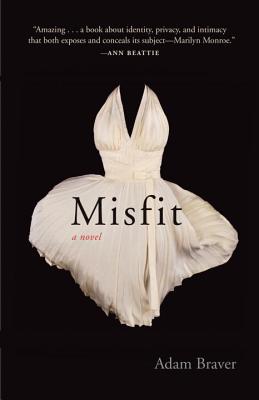 Misfit (Paperback)
Tin House Books, 9781935639404, 304pp.
Publication Date: July 24, 2012
* Individual store prices may vary.
Description
Melding facts with fiction, Misfit is a fascinating exploration of the many personas of Marilyn Monroe.
Marilyn Monroe is one of the most iconic figures in the history of Hollywood, and her legendary work on the big screen is eclipsed only perhaps by the lengend of her life off it. Adam Braver's Misfit centers on the last weekend of Monroe's life, which she spent at Frank Sinatra's resort, the Cal Neva Lodge, in Lake Tahoe. Melding facts with fiction, Braver takes moments throughout Monroe's life—her childhood, her marriages with Joe DiMaggio and Arthur Miller, her studies with Lee Strasberg at the Actors Studio, and her role in The Misfits, the film Miller wrote for her—and explores how they informed her tragic end.
About the Author
Adam Braver is the author of five novels, most recently Misfit. His books have been selected for the Barnes and Noble Discover New Writers program, Borders' Original Voices series, the IndieNext list, and twice for the Book Sense list, as well as having been translated into Italian, Japanese, Portuguese, and French. He is on faculty and writer-in-residence at Roger Williams University in Bristol, RI. In addition to having taught for the University of New Orleans' Low Residency MFA program, he's also been a regular writer-in-residence at the New York State Summer Writers Institute.
Praise For Misfit…
"Seamlessly blending fact and fiction, Braver penetrates the vivacious veneer of Monroe's on-screen persona to reveal a woman so adept at embodying a role, that 'it swallows her whole.' Through his gradual unfolding of Monroe's painful upbringing and her desire to be taken seriously in a world that values the superficial, Braver makes Monroe's tragic end freshly poignant." Publishers Weekly

"To some extent, it's about the details, obviously the result of painstaking research, but crafted as only a great fiction writer can pull off through a seamless application of imagination to fact."
San Francisco Chronicle


"Misfit is an incredible act of imagination. Adam Braver writes with wit and precision and real empathy, telling us something new and vital about one of our most over-scrutinized figures, while restoring some of the humanity that the glare of celebrity has stripped away." Scott O'Connor, author of Untouchable


"Adam Braver is not the first to interpret the true legend of Norma Jeane Baker, but it may be that he has gone the deepest. Beautiful, aching, fearsomeMisfit is a hall of mirrors that we all know, even those of us lucky enough not to have arrived there as Marilyn Monroe."Zachary Lazar, author of Sway

"Once again, Adam Braver turns his prodigious imagination and keen eye on an iconic figure and breathes life into her. His Marilyn will break your heart." Ann Hood, author of The Red Thread

"Misfit is amazing. Yes, we're all familiar with the very publicly overexposed story of Marilyn Monroe's life and death. And no, I'm not going to say that this follows in the path of anyone, or that Marilyn was herself a symbol, or that the book, itself, speaks to some general, important metaphor about America. Instead, it's a book about the ability, the power of the author to penetrate the cell membrane, to pierce the heart of his recognizable yet perplexingly vague subject, and in so doing, to implicate the reader. It's about how someone can be explored externally, while also internally examined: a book about identity, privacy, and intimacy that both exposes and conceals the subject. As, it seems to me, Marilyn acted while retaining an unknowable essence, so that she was hugely projected upon yet inhabited no life comprehensible to her.
Ann Beattie, author of Mrs. Nixon: A Novelist Imagines a Life

"Adam Braver has a wonderfully rich imagination and his grasp of historical characters and settings is both deep and natural. I would gladly read anything he writes." Dan Chaon, author of Await Your Reply


Misfit is a thrilling book, a beautiful book and, most of all, a believable story at last about a woman so well known and not at all." SFGate.com
or
Not Currently Available for Direct Purchase