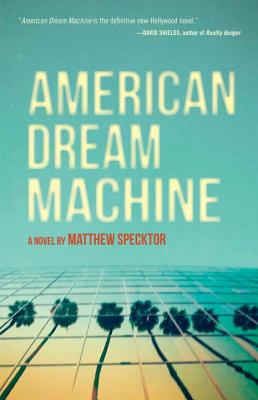 American Dream Machine
Hardcover

* Individual store prices may vary.
Other Editions of This Title:
Paperback (4/15/2014)
MP3 CD (7/5/2016)
Description
The story of two talent agents and their three troubled boys, heirs to Hollywood royalty; a sweeping narrative about fathers and sons, the movie business, and the sundry sea changes that have shaped Hollywood and, by extension, American life.
American Dream Machine is the story of an iconic striver, a classic self-made man in the vein of Jay Gatsby or Augie March. It's the story of a talent agent and his troubled sons, two generations of Hollywood royalty. It's a sweeping narrative about parents and children, the movie business, and the sundry sea changes that have shaped Hollywood, and by extension, American life. Beau Rosenwald—overweight, not particularly handsome, and improbably charismatic—arrives in Los Angeles in 1962 with nothing but an ill-fitting suit and a pair of expensive brogues. By the late 1970s he has helped found the most successful agency in Hollywood. Through the eyes of his son, we watch Beau and his partner go to war, waging a seismic battle that redraws the lines of an entire industry. We watch Beau rise and fall and rise again, in accordance with the cultural transformations that dictate the fickle world of movies. We watch Beau's partner, the enigmatic and cerebral Williams Farquarsen, struggle to contain himself, to control his impulses and consolidate his power. And we watch two generations of men fumble and thrive across the LA landscape, learning for themselves the shadows and costs exacted by success and failure. Mammalian, funny, and filled with characters both vital and profound, American Dream Machine is a piercing interrogation of the role—nourishing, as well as destructive—that illusion plays in all our lives.
Praise For American Dream Machine…
"Sprawling, atmospheric.... [American Dream Machine has] a feline watchfulness and a poetic sensibility that echoes Bellow's and Updike's prose rhythms along with their voracious, exuberant intelligence."
New York Times Book Review

"Richly engaging . . . . Specktor sees his Hollywood characters as three-dimensional and very human."
San Francisco Chronicle

"With coolness and precision, Specktor comes across as a West Coast Saul Bellow in this sweeping narrative, but his energetic, pop-infused prose is markedly his own."
Booklist

"Specktor's book deserves a special space in the L.A. canon, somewhere looking up at Pynchon and Chandler. Even as the narrator searches through his past to uncover the truth about his family, the author is searching, too."
LA Weekly

"...Matthew Specktor's American Dream Machine [is] a big and generous novel that functions both as elegy for a recent past and fictional anthropology . . . .it evokes a world with casual ease and unexpected tenderness, recalling and referencing lots of other fiction (both Hollywood and non) while contriving to establish its unique authority."
LA Review of Books

"Specktor's great achievement is to make familiar territory original, the Hollywood novel born anew. It's bold, weird, an d unforegetable, as startling as a poke in the eye."
The Sunday Telegraph Magazine

"Specktor does for L.A. what Hemingway did for Paris and what Hunter S. Thompson did for Las Vegas: create a character that lives and breathes a city. Like hotels in Vegas, we see characters rise, grow dusty, and collapse." Daily Beat, Hot Reads

"American Dream Machine takes readers into situations that might seem familiar: the drug-fueled party at a star's house in the hills, tense meetings between executives, dimly-lit wood-paneled bars filled with players and movie stars. Yet Specktor's lyrical writing and insights into human nature elevate the novel into fresh territory."
Kirkus

"[American Dream Machine] is a vivid evocation of the entertainment business from the 1960s to the near present, an L.A. bildungsroman and a murder mystery, all wrapped in one . . . entertaining package."
New York Daily News

"[American Dream Machine] is an exciting, heart-rending fictionalized journey through the 40 years of Hollywood history . . .Specktor has woven Nate's and the town's dreamlife into the very fabric of his storytelling, and the result is profound, heart-stirring talecomic, melodramatic, tragic, toothat brings the dark heart of Hollywood desire into the brilliant pitiless light of the California sun."
Las Vegas CityLife

"American Dream Machine is grand, complex, lush, intelligent and lively, funny as hell and generous in ways you don't often find. It's also a strikingly original portrait of Los Angeles. People speak of Chandler's Los Angeles, or Didion's, or Nathaniel West's. Someday, they'll speak of Specktor's the same way."
Victor LaValle, author of Big Machine and The Devil in Silver

"American Dream Machine may be the first literature I've read in which Los Angeles is assumed as London is assumed by Dickens and Paris by Proust and New York by a host of twentieth-century American writers. There is nothing ironic, ambivalent, or apologetic about Specktor's relationship to Los Angeles -- as it is and was, as myth and as a thriving capitol city. Los Angeles provides an animate pulse under the lives of these men and boys, a source of permanence that lends their struggles gravity."
Mona Simpson, My Hollywood

Matthew Specktor has created a great American character in Beau Rosenwald. He is full of contradictions, full of ambition, full of raw life, and yet he manages to seduce us. This riveting novel shows us the existential desperation that lurks in the dark hunger of Hollywood power mongers. Specktor gets every detail right, and American Dream Machine's sentences are suffused with an elegiac beauty."
Dana Spiotta, author of Stone Arabia and Eat The Document

"American Dream Machine is the definitive new Hollywood novel. It's almost
impossible to write now about the movie business without resorting to well-established
mythology. Somehow, here, Matthew Specktor has figured out a way to do so."
David Shields, author of Reality Hunger and The Thing About Life Is That One Day You'll Be Dead

"This is the novel about Los Angeles that I've been waiting for--a mythical LA full of longing and distances and illusion. Specktor has captured the LA I know, the one all around me and the one in my head, a city of invention and grit, surface and underbelly. Funny, poignant, and gorgeously written."
Charles Yu, author of How to Live Safely in a Science Fictional Universe and Sorry Please Thank You

On the other side of paradise from Monroe Stahr and The Last Tycoon is Beau Rosenwald in American Dream Machine, the last agent who mattered as much to the movies as a studio boss. Against the backdrop of the possibility-plagued seventies, Matthew Specktor's moving, witty, and irresistible epic captures as well as any novel in memory that time in LA when twilight could still be mistaken for sunrise."
Steve Erickson, author of Zeroville
Tin House Books, 9781935639442, 464pp.
Publication Date: March 26, 2013
About the Author
Matthew Specktor is the author of the novels American Dream Machine and That Summertime Sound, as well as a nonfiction book of film criticism. His writing has appeared or is forthcoming in The Paris Review, The Believer, Tin House, Black Clock, and other publications. He is a founding editor of the Los Angeles Review of Books.
or
Not Currently Available for Direct Purchase