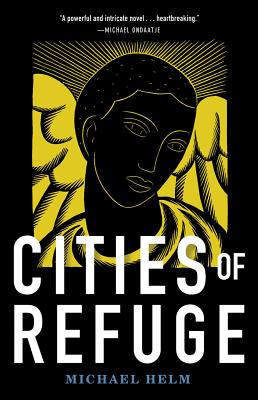 Cities of Refuge (Paperback)
Tin House Books, 9781935639497, 424pp.
Publication Date: February 26, 2013
* Individual store prices may vary.
or
Not Currently Available for Direct Purchase
Description
One summer night on a side street in downtown Toronto, Kim Lystrander is attacked by a stranger. In the weeks and months that follow, she returns to the night, in writing, searching for harbingers of the incident and clues to the identity of her assailant. The attack also torments Kim's father, and as he investigates the crime on his own, he begins to unravel. Entwined in their stories are Kim's ailing mother, a young Colombian man living in the country illegally, and a woman whose faith-based belief in the duty to give asylum to any who seek it, even those judged guilty, endangers them all. A novel of profound moral tension and luminous prose, Cities of Refuge shows how a single act of violence connects close-by fears to distant political terrors. It weaves a web of incrimination and inquiry in which mysteries live within mysteries, and stories within stories, and the power to save or condemn rests not only in the forces of history but also in the realm of our deepest longings.
About the Author
Michael Helm was born in Saskatchewan. His most recent novel, "Cities of Refuge," is a national bestseller in Canada and was a Rogers Writers' Trust Ficiton Award finalist, a Giller Prize nominee, and a "Globe and Mail" and "Now" magazine Best Book of the Year. His earlier novels are "The Projectionist," a finalist for the Giller Prize and the Trillium Award; and "In the Place of Last Things," a finalist for the Rogers Writers' Trust Fiction Prize and the regional Commonwealth Writers' Prize for Best Book. His writings on fiction, poetry, and the visual arts have appeared in North American newspapers and magazines, including "Brick," where he serves as an editor. He teaches at York University in Toronto.
Praise For Cities of Refuge…
Awards and Honors:

Finalist for the Rogers Writers Trust Fiction Award for Cities of Refuge
Globe and Mail "Book of the Year" -- In the Place of Last Things
Globe and Mail "Book of the Year" -- Cities of Refuge
Now magazine Book of the Year -- Cities of Refuge
Finalist for the Giller Prize for The Projectionist
Finalist for the Trillium Award for The Projectionist
Finalist for the regional Commonwealth Prize, Best Book for In the Place of Last Things
Finalist for the Rogers Writers Trust Fiction Award for In the Place of last Things


Praise for Cities of Refuge

"Standout . . . .[T]his is a powerful depiction of the struggle to overcome adversity."
Publishers Weekly, Starred Review

"A powerful and intricate novel about political guilt in contemporary times, intellectually astute and with crystalline writing. Cities of Refuge weaves together the clashes of culture, alongside that of a father and a daughter, to make large issues intimate and in the end heartbreaking."
Michael Ondaatje

"Michael Helm delivers us to the rarified and unsettling regions of the heart and mind, with winning results: he is a capable navigator, a superb craftsman, and Cities of Refuge is a humane and harrowing novel."
Patrick DeWitt, author of The Sisters Brothers

"Cities of Refuge is an unsettling and powerful novel that beautifully engages the complexities of memory, trauma, and history."
Dana Spiotta, author of Stone Arabia and Eat the Document


"The profound empathy with which Michael Helm imagines his characters into multidimensional life is only one of his many, great gifts. As Cities of Refuge demonstrates, he is also a spectacularly good storyteller and prose stylist with a range and nerve that sets him apart from almost every other writer of his generation."
Barbara Gowdy, author of Helpless

"[W]hat [Helm] shows in a remarkable display of multiple-perspective sympathy, is how, in a world where we're all inter-connected as never before, guilt and innocence are all but impossible to apportion with finality.... Cities of Refuge establishes him as one of Canada's most commanding writers."
Montreal Gazette

"Cities of Refuge's.... thematic breadth pushes Helm into the front ranks of Canadian novelists."
Quill and Quire

"[A] stunning read..., gripping, thought-provoking, ultimately haunting.... Cities of Refuge may be the future of The Canadian Novel: intrinsically and internally varied, polyvalent, confident, contemporary and challenging. If this is the future, bring it on."
Edmonton Journal

Helm writes delicately and empathetically, using a photographer's eye and poet's lyricism to ... illuminate the consequences of violence and loss."
Elle Canada

"Michael Helm's Cities of Refuge is an exceptionally well-crafted and ambitious novel. . . . In it, the personal is intertwined with the political, the past with the present, and the familiar with the unexpected."
Canadian Literature

Let me state simply that this is one of the finest books I have read in recent years. This is not just a novel set in Toronto; it is about Toronto and it is the most discerning description of the city since Michael Ondaatje's In the Skin of a Lion. In his luminous prose, Helm has dared to go beyond the psychological level to the level of spirit."
Literary Review of Canada
Advertisement