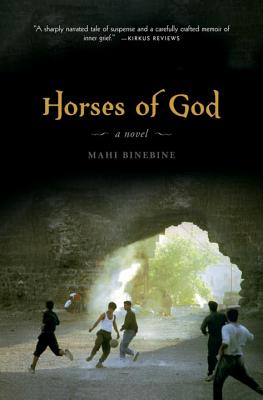 Horses of God
A Novel
Paperback

* Individual store prices may vary.
Description
Inspired by real events, Horses of God follows four childhood friends growing up in a slum outside of Casablanca as they make the life-changing decisions that will lead them to become Islamist martyrs.
On May 16, 2003, fourteen suicide bombers launched a series of attacks throughout Casablanca. It was the deadliest attack in Morocco's history. The bombers came from the shantytowns of Sidi Moumen, a poor suburb on the edge of a dump whose impoverished residents rarely if ever set foot in the cosmopolitan city at their doorstep. Mahi Binebine's novel Horses of God follows four childhood friends growing up in Sidi Moumen as they make the life-changing decisions that will lead them to become Islamist martyrs. The seeds of fundamentalist martyrdom are sown in the dirt-poor lives of Yachine, Nabil, Fuad, and Ali, all raised in Sidi Moumen. The boys' soccer team, The Stars of Sidi Moumen, is their main escape from the poverty, violence, and absence of hope that pervade their lives. When Yachine's older brother Hamid falls under the spell of fundamentalist leader Abu Zoubeir, the attraction of a religion that offers discipline, purpose, and guidance to young men who have none of these things becomes too seductive to ignore. Narrated by Yachine from the afterlife, Horses of God portrays the sweet innocence of childhood and friendship as well as the challenges facing those with few opportunities for a better life. Binebine navigates the controversial situation with compassion, creating empathy for the boys, who believe they have no choice but to follow the path offered them.
Praise For Horses of God: A Novel…
Winner of the 2010 Prix du Roman Arabe and Prix Littéraire Mamounia

"This is a heart-stopping, heart-breaking narrative--the story of a group of young men trying to make lives for themselves in one of Casablanca's poorest slums. It captures the intersection of politics, poverty, religion, and youth. It is a story as beautiful as it is disturbing, as sober-minded as it is astonishingly wild and expansive."
--Pauls Toutonghi, author of Evil Knievel Days

"Like Paulo Lins's sweeping Brazilian saga City of God, Binebine's Horses of God is the story of a violent, maze-like city-within-a-cityCasablanca's Sidi Moumen shantytownits anonymous dreams and scavenger dumps, campfires and soccer matches and 'hashish-scented sky.' But, above all, it's about Sidi Moumen's soul and the 'living dead' yearning to escape, to be reborn, to grow wings and soar above its crumbling walls. Binebine writes living, breathing history, vividly capturing our incendiary daily world from the inside out."
Anderson Tepper, editor, Vanity Fair
Tin House Books, 9781935639534, 168pp.
Publication Date: March 26, 2013
About the Author
Mahi Binebine was born in Marrakech in 1959. He studied in Paris and taught mathematics, until he became recognized first as a painter, then as a novelist. Binebine lived in New York in the late 1990s, when his paintings began to be acquired by the Guggenheim Museum.
or
Not Currently Available for Direct Purchase