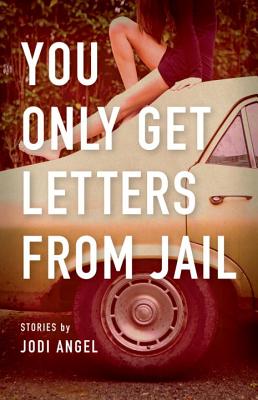 You Only Get Letters from Jail (Paperback)
Tin House Books, 9781935639572, 286pp.
Publication Date: July 16, 2013
Other Editions of This Title:
Digital Audiobook (12/19/2013)
* Individual store prices may vary.
Description
Haunted by unfulfilled dreams and disappointments, and often acting out of mixed intentions and questionable motives, the boys turned young men of these stories are nevertheless portrayed with depth, tenderness, and humanity. Jodi Angel's gritty and heartbreaking prose leaves readers empathizing with people they wouldn't ordinarily trust or believe in.
About the Author
Jodi Angel s first collection of short stories, "The History of Vegas," was published in 2005 and was named as a "San Francisco Chronicle" "Best Book of 2005" as well as a "Los Angeles Times" Book Review "Discovery." Her work has appeared in "Tin House," "Zoetrope: All-Story," and the "Sycamore Review," among other publications and anthologies. Her stories have received several Pushcart Prize nominations and she was selected for Special Mention in 2007. Most recently her story, "A Good Deuce," was noted as a "Distinguished Story" in "The Best American Stories" 2012. She grew up in a small town in Northern California--in a family of girls.

"
Praise For You Only Get Letters from Jail…
". . . Jodi Angel writes with a voice dripping with sweat and Schlitz. You Only Get Letters from Jail is about young men and women teetering on a razor's bloody edge, living lives in which cheap thrills are the only kind."
--Esquire Four

"Jodi Angel embodies this pack of low-rent, no-count, hard-luck, heart-tugging teenage boys so thoroughly that one can only conclude she was one, in this or some former lifetime. Plus, she really knows her way around a paragraph. In these stories, child support never gets paid and guns go off too often and deciding to love something almost guarantees its immediate departure or death. These are hard, wonderful, compassion-inducing stories, laced with surprising and surprisingly powerful grace notes, flashes of heat lightning in the dark."
--Pam Houston, author of Contents May Have Shifted


"You Only Get Letters From Jail is one of the finest and truest collections of 'American' short stories I have ever read. Set in small towns among muscle cars and grange halls and rock and roll and damaged vets and divorced parents, Jodi Angel's stories explore in sharp and often funny prose the lives of teenagers trying their best to make sense of things in this world that, more often than not, remain inexplicable."
--Donald Ray Pollock, author of The Devil All the Time

In these charged stories, the young narrators do not understand that they cannot afford their innocence, their tenderness, in these worlds. I was captured by the power of Jodi Angel's fresh, uninsulated prose and I read toward the secret harm in each story like a man who has heard a noise in the other room. You Only Get Letters from Jail is a gripping collection."
--Ron Carlson, author of The Signal

Jodi Angel's tough and elegant stories remind me of the work of Ray Carver, Melanie Rae Thon, and Richard Ford. These are big-hearted renderings of folks struggling to find beauty in a harsh world, the pain of Angel's characters driven into their potent desire to escape, to find mercy, to be healed. The eleven stories in You Only Get Letters from Jail are radiant with wise and powerful drama, serious, earnest, and true."
--Alan Heathcock, author of Volt


Praise for The History of Vegas

"Wonderful, terrible, dangerous stories,"
--Pam Houston

"This precarious world is putty in Jodi Angel's nimble hands."
--Los Angeles Times

"In essence, Angel is writing a kind of abbreviated naturalism, the kind of fiction that writers like Raymond Carver and Larry Brown honed to perfection. Angel excels at it as well, whether the setting is the urban jungle of Las Vegas, the dirt roads of the lonely, expansive West or even the seemingly placid suburbs. Some of her protagonists survive, but none unscathed."
--San Francisco Chronicle

"Angel's . . . creative plots and sharp handle on adolescent diction bring as much pleasure to such dire reading as can be hoped for, or expected."
--San Diego Union-Tribune

"Interesting and hard-hitting stories that seem both real and surreal at the same time . . . It is Angel's unflinching devotion to telling it like it is that makes this book so eerily realistic and helps to achieve a deeper meaning."
--Sacramento News and Reviews
or
Not Currently Available for Direct Purchase