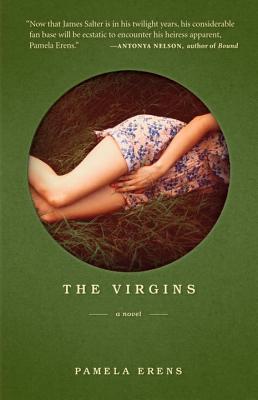 The Virgins
A Novel
Paperback

* Individual store prices may vary.
Other Editions of This Title:
Compact Disc (4/4/2019)
MP3 CD (6/28/2016)
Description
The Virgins is the story of Aviva Rossner and Seung Jung's erotic awakening at Auburn Academy re-imagined in richly detailed episodes by their classmate Bruce, a once-embittered voyeur, now repentant narrator, whose envy spurs the novel's tragic end.
* A New York Times Editor's Choice selection

* A Chicago Tribune Editor's Choice selection

* A Best Book of 2013, The New Yorker

* A Best Book of 2013, The New Republic

* A Critics' Choice selection for 2013, Salon

* A Best Indie Title of 2013, Library Journal

* One of Redbook's "Top Ten Beach Reads of 2013"

* One of O Magazine's "Ten Titles to Pick Up Now," August 2013

* Featured in The Millions's "Most-Anticipated" List 2013

* A "This Week's Hot Reads" selection, The Daily Beast

* A Vanity Fair Hot Type selection

* The Virgins was a finalist for the John Gardner Award



* Publishers Weekly named The Virgins one of the best boarding school books of all time
It's 1979, and Aviva Rossner and Seung Jung are notorious at Auburn Academy. They're an unlikely pair at an elite East Coast boarding school (she's Jewish; he's Korean American) and hardly shy when it comes to their sexuality. Aviva is a formerly bookish girl looking for liberation from an unhappy childhood; Seung is an enthusiastic dabbler in drugs and a covert rebel against his demanding immigrant parents. In the minds of their titillated classmates—particularly that of Bruce Bennett-Jones—the couple lives in a realm of pure, indulgent pleasure. But, as is often the case, their fabled relationship is more complicated than it seems: despite their lust and urgency, their virginity remains intact, and as they struggle to understand each other, the relationship spirals into disaster.



The Virgins is the story of Aviva and Seung's descent into confusion and shame, as re-imagined in richly detailed episodes by their classmate Bruce, a once-embittered voyeur turned repentant narrator. With unflinching honesty and breathtaking prose, Pamela Erens brings a fresh voice to the tradition of the great boarding school novel.
Praise For The Virgins: A Novel…
. . .The Virgins is both skillfully crafted and dangerous . . .Pamela Erens [has] told a devastating story. The Virgins is a brutal book, but it's flawlessly executed and irrefutably true.

— John Irving, New York Times Book Review

Adroitly capturing the anguish of adolescent desire, Erens's latest is a lesson in love, loss, and tragedy.

— Publishers Weekly

Erens writes with great believability and sensitivity about the teenage years, when school and family pressures, along with sexual awakening, can seem like life-and-death issues. Whether she's describing a visit to an ice cream stand or Seung and Aviva's explorations of lovemaking, her prose is sensual and lyrical. . .Many readers will want to investigate this work.

— Library Journal

As in many budding relationships, the best part of Erens's recent novel is simply the suggestion of sex. In The Virgins, we join the author's two college characters for their early explorations of one another and watch them through the voyeuristic perspective of another student.

— Time Out New York

This newest addition to the 'boarding school novels we love' category mixes the unsettling drama of A Separate Peace with the sexual juiciness of Prep. . .The dark twist of an ending will haunt you for days.

— Redbook.com

Perhaps it is going too far to say that The Virgins is primarily about the fundamental flaws of white, male narrators in fiction. It is also about sex, fear—especially of authority—class, desire, shame and jealousy. But in reveling in the power of narrative, the book asks the reader to think about who is—and who has been—allowed to wield it.

— The New York Observer

With The Virgins, Pamela Erens' intricate second novel, she has done a star turn with the prep school tale, giving it meaning for those who might not usually care about that world.

— The Chicago Tribune, Editor's Choice

It's rare to find a book that summons the delicate emotional state of teenagers — especially when it comes to sex — without being precious or cynical, but Pamela Erens' The Virgins beautifully manages that feat.

— Los Angeles Times

[Erens] manages a delicate bit of witchcraft such that, by halfway through the novel, our fingertips are humming on the page. And that is due to the way she summons so intensely the momentousness of adolescence, when everything feels big and important, and every moment feels like the one after which you will never be the same again.

— The Guardian

On par with the likes of Jeffrey Eugenides's The Virgin Suicides and Sheila Kohler's Cracks, The Virgins is a devastating tour de force that sets a new bar for unreliable narrators.

— The Independent

A devilish narrator looks back on his boarding school days, when he and another young man develop an obsession with the new girl on campus. But he tells their story in a voyeuristic way, to make this one of the most troubling and serpentine novels of the year.

— The Daily Beast

Outsiders at a prestigious East Coast boarding school in 1979, Aviva Rossner and Seung Jung find and then tragically lose each other. Rarely has the anguish of young love, self-discovery, and sexual jealousy—heightened by the sting of class division—been rendered so tellingly.

— Library Journal

In her second novel, The Virgins, Pamela Erens paints an arresting portrait of adolescent sexuality — at once beautiful, erotic, awkward, and shameful. With its racial tensions, vile narrator, and tragic climax, The Virgins reads like a prep school Othello, set to a soundtrack of Devo and Jethro Tull.

— Leigh Stein, Los Angeles Review of Books

In Pamela Erens's evocative second book, The Virgins, boarding school is a microcosm of society, with its strict social norms that frown on blatant sexuality.

— The Rumpus

With a lyrical voice, Pamela Erens has written a novel about first love and sexual awakening that is multilayers and perceptive...[The Virgins] is thickly layered with prose that intrigues the mind and captivates the senses.

— Foreword Reviews

The metaphysics of The Virgins [is] that the potential eroticism in all things makes them all secretly significant.
— Slate

Erens brilliantly captures that time when someone is determined to give up virginity and how all-consuming sex becomes. She writes about the mystique, the slow building and the machinations Seung and Aviva experience.

— New Jersey Star Ledger

The Virgins does qualify as a new classic and students of the form will read it again and again.

— Gently Read Literature

Virginity is treated with. . .grace and subtlety in Pamela Erens's latest novel, The Virgins (Tin House Books), a beautifully written story about two outcasts who form an all-consuming bond at an exclusive boarding school, as told, in secretive, sweaty detail, by a rather odious classmate.

— Vulture.com

With a cover like this, who could resist a peek? What lay inside was even more riveting than the titillating, slightly disturbing, Lolita-esque photo that first encouraged me to have a go. A prep-school saga about sex, rumors, young love, and adult regret, The Virgins encouraged its readers to feel as frenzied, and libidinous, and strung out as a 17-year-old in the throes of first lust. This small, smart masterpiece is a beautiful shot of adrenaline—with a terrifying come down.

— Hillary Kelly, The New Republic

This is some of the strongest literary fiction I've read in a while...

— The Tattered Cover

The Virgins reminded me how gratifying it is to fall into a good novel—one that feeds the senses and makes us think.

— The Common Online

As an editor, I can say this is one of the most finely crafted books I've read. The fresh approach of a narrator who is imagining our scenes adds a compelling filter who still feels trustworthy. . .Erens handling of the characters sexuality and the grace with which she handles the sex scenes—with teenagers—deserves a separate round of applause. . .As a reader, I was simply moved.

— The Painted Bride Quarterly, Drexel University

Now that James Salter is in his twilight years, his considerable fan base will be ecstatic to encounter his heiress apparent, Pamela Erens, whose erotically charged prose reaches for naming the ineffable, honoring the elusive, and celebrating the bodily majesty of life. An extraordinary novel.

— Antonya Nelson, author of Bound

A sensual and haunting story of sexual awakening, Pamela Erens's exquisitely written The Virgins vividly captures the thrill of youthful innocence and the crushing pain of its loss. This is a profound—and profoundly moving—novel. I couldn't put it down, and I didn't want it to end.

— Will Allison, author of Long Drive Home

Suspenseful and swift and well made, The Virgins, Pamela Erens's exciting new fiction, ratchets up the heat on the boarding school novel with ferociously sensual descriptions of frustrated love—love imagined and love experienced. Easy to fall for this book and fall hard.

— Christine Schutt, author of Prosperous Friends

Like the unforgettable Aviva Rossner, The Virgins is small but not slight—intense, sublime, vivid, uncanny, irresistible. It joins the ranks of the great boarding school novels while somehow evoking the twisted, obsessive narrations of Nabokov's Pale Fire or Wharton's Ethan Frome. Pamela Erens is that rare writer who can articulate—and gorgeously—the secrets we never knew about ourselves.

— Rebecca Makkai, author of The Borrower

The Virgins is a stunningly beautiful novel. It is precisely observed, skillfully constructed, and brilliantly written. This is possibly the best novel of the many good ones set in a New England prep school, that terrain of elegance and envy, of flowering and blight.

— John Casey, National Book Award-winning author of Spartina
Tin House Books, 9781935639626, 288pp.
Publication Date: August 6, 2013
About the Author
PAMELA ERENS's second novel, The Virgins, was a New York Times Book Review Editor's Choice and was named a Best Book of 2013 by the New Yorker, the New Republic, Library Journal, and Salon. The novel was a finalist for the John Gardner Book Award for the best book of fiction published in 2013. Pamela's debut novel, The Understory, was a finalist for the Los Angeles Times Book Prize and the William Saroyan International Prize for Writing. Her essays, articles, and reviews have appeared in publications such as Elle, Vogue, the New York Times, Los Angeles Review of Books, and the Millions.
or
Not Currently Available for Direct Purchase