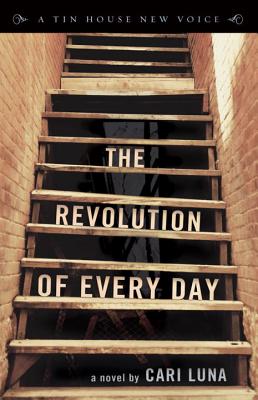 The Revolution of Every Day (Tin House New Voice) (Paperback)
Tin House Books, 9781935639640, 388pp.
Publication Date: September 24, 2013
* Individual store prices may vary.
Description
In the midnineties, New York's Lower East Side contained a city within its shadows: a community of squatters who staked their claims on abandoned tenements and lived and worked within their own parameters, accountable to no one but each other. On May 30, 1995, the NYPD rolled an armored tank down East Thirteenth Street and hundreds of police officers in riot gear mobilized to evict a few dozen squatters from two buildings. With gritty prose and vivid descriptions, Cari Luna's debut novel, The Revolution of Every Day, imagines the lives of five squatters from that time. But almost more threatening than the city lawyers and the private developers trying to evict them are the rifts within their community. Amelia, taken in by Gerrit as a teen runaway seven years earlier, is now pregnant by his best friend, Steve. Anne, married to Steve, is questioning her commitment to the squatter lifestyle. Cat, a fading legend of the downtown scene and unwitting leader of one of the squats, succumbs to heroin. The misunderstandings and assumptions, the secrets and the dissolution of the hope that originally bound these five threaten to destroy their homes as surely as the city's battering rams. Amid this chaos, Amelia struggles with her ambivalence about becoming a mother while knowing that her pregnancy has given her fellow squatters a renewed purpose to their fight--securing the squats for the next generation. Told from multiple points of view, The Revolution of Every Day shows readers a life that few people, including the New Yorkers who passed the squats every day, know about or understand.
About the Author
Cari Luna received an MFA in fiction from Brooklyn College. Her short fiction has appeared in "failbetter," "Avery Anthology," "PANK," and "Novembre Magazine." New York-born, she now lives in Portland, OR, with her husband, their two children, a cat, and four chickens.
Praise For The Revolution of Every Day (Tin House New Voice)…
"Luna creates an array of complex characters caught up in emotions, relationships and situations far from the ordinary as they examine their commitment to their merged family and explore their own ideals and expectations. Enlightening and marked by inventive subject matter, intense reflection and stark eloquence."Kirkus Reviews"Luna portrays the thorny, complicated relationships among addicts and runaways in various stages of recovery with riveting passion and heartrending realism."Booklist"Excellent debut novel. . .Her characters are deeply sympathetic and richly drawn, portrayed as struggling New Yorkers first, political outliers second."LA Times Book Review"The characters are superbly flawed, and Luna expertly leads us through their vastly different psyches and makes us understand them, even if we don't always sympathize. But just as much as it is a novel of characters, The Revolution of Every Day is the story of a city that's struggling with gentrification, as Cat puts it, "All the way back to the Dutch and the Indians, yeah?"Bust Magazine (Five Stars)"Luna shows how youthful dreams and a life lived just above the poverty line can ossify into something heart-breaking. "They've been so busy surviving they haven't noticed their lives hardening around them, fixing them into place," she writes about the oldest residents. "They are now all they're ever going to be." In the end, the novel examines how years of fighting for what you believe in both devastates and transforms, as each of these characters struggles to find a place to call home."O, The Oprah Magazine, Book of the Week"[A] juicy read, filled with secret trysts, unexpected pregnancies and mysterious personal histories . . . . Giuliani sent NYPD tanks (yes, they have tanks) into Alphabet City to oust the squatters who were responsible, at least in part, for making the neighborhood livable again, and while this is a fictional account, it truly takes you back to an earlier version of the same old New York struggle over class, space and the right to make a home for yourself in this city.Annaliese Griffin, Brooklyn Based"The Revolution of Every Day is a novel that will not seem like a first. It feels evolved, it feels like it has been written with the tender, yet confident, and concentrated touch of someone who has done it many times before."Busking at the Seams"Luna exposes us, with tenderness and eyes open wide, to the strange and vivid beauty of a time and place we may otherwise turn from. She provides us with a satisfying opportunity to explore a foreign world."The OregonianThe Revolution of Every Day picked as one of the top 10 Northwest books of 2013!"Luna skillfully ties the plight of Thirteen House and its profoundly human residents to the gentrification of the city as a whole, illustrating how someone can feel at once completely part of a city, and powerless against it."The Portland Mercury"In Cari Luna's debut novel, the hope, misunderstandings, and assumptions that bind five squatters living in New York City's Lower East Side during the mid-1990s threaten to unravel when developers and lawyers try to evict them from the abandoned dwellings."Education Week: Bookmarks"Cari Luna's novel is as heroic as her until-now-unsung characters. Salvaging the abandoned and derelict, rooting life in what before was barren waste, Luna's urban homesteaders exhibit the same valiance as Luna the novelist: she has rescued recent, all-but-forgotten history from beneath the bulldozers of 'progress'; she has breathed new life into a lost world."Susan Choi, author of My EducationCari Luna shines a light in the dark corners of New York that most people don't see. Her vivid portrayal of the squatters of Thirteenth Street and their fierce struggle to keep their community alive is an elegy for a city that no longer exists."Elliott Holt, author of You Are One of ThemSet in the dramatic world of the Lower East Side at the zenith of repeated waves of gentrification, The Revolution of Every Day manages to remain faithful to its own oceanic emotions. Much like the golden haze of an old photo, the novel evokes memory at its most transitoryinflected by hope, damaged by reality. Luna's love for the New York of this time and its complexities shows through on every page."Vanessa Veselka, author of ZazenCari Luna's The Revolution of Every Day is a bold, intrepid look into a world that when we are our lesser selves we would rather pass by than dwell in. But in this world, she finds devotion, loyalty, and, more eloquently, human relationships persisting in all their messiness, complexity, and glory. Like all great fiction, this novel will force us to reevaluate our perspective about the way things are and with more open hearts and minds consider how they ought to be; and by making us more tolerant, less provincial, and changing our mind-set, even if by degrees, it may make a difference when we reenter the vibrant but flawed society it portrays."Ernesto Mestre-Reed, author of The Second Death of Unica Aveyano"Cari Luna's beautiful, carefully rendered debut novel not only captures a specific moment in time in marvelous detail but also shows how our particular lives are moved by forces beyond us that we strive to understand and resist only at the greatest cost. A remarkable, unusual book."Emily Mitchell, author of The Last Summer of the World"Cari Luna gets her hands dirty with her characters, digging deep and exposing vulnerable underbellies that some lesser writers might not dare explore. Masterful, precise, and utterly affecting, The Revolution of Every Day will change what you think about what makes a family, what makes a life, and how to love."Sara Shepard, author of Everything We Ever Wanted"Cari Luna's beautifully written novel packs an emotional wallop for lifetime New Yorkers like me. I knew precious little about the Lower East Side squatters' movement while it was happeningmy mistake. Luna makes a compelling case that flawed, wounded souls are often political visionaries. A major achievement."Susan Brownmiller, author of Against Our Will: Men, Women, and Rape