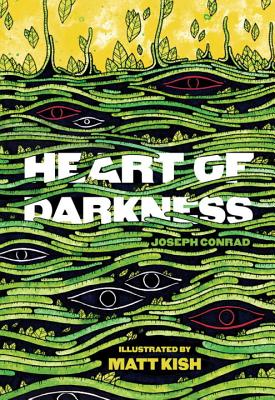 Heart of Darkness (Hardcover)
Tin House Books, 9781935639664, 132pp.
Publication Date: November 12, 2013
Other Editions of This Title:
Paperback (4/6/2017)
Paperback (9/20/2017)
Paperback (9/5/2017)
Paperback (1/5/2017)
Paperback (2/5/2018)
Paperback (6/6/2018)
Paperback (1/4/2017)
Paperback (8/20/2017)
Paperback (12/21/2016)
Paperback (1/4/2017)
Paperback (1/22/2018)
Paperback (4/23/2018)
Paperback (12/20/2017)
Paperback (3/25/2018)
Paperback (6/21/2018)
Paperback (6/10/2018)
Paperback (9/29/2017)
* Individual store prices may vary.
Description
Following his massive--and massively successful--Moby Dick in Pictures, artist Matt Kish has set himself upon an equally impressive, and no less harrowing, task: illustrating each page of Joseph Conrad's masterpiece, Heart of Darkness.
Kish's rich, imaginative drawings and paintings mirror Conrad's original text and serve to illuminate Marlow's journey into the heart of the Congo, and into the depths of the human soul. Heart of Darkness is a text ripe for analysis and argument, formally and thematically; it explores matters of imperialism, racism, gender, and the duality of human nature. Kish's illustrations add another layer, and another voice in the conversation. Heart of Darkness is an essential edition for fans and students of Conrad's work, but is, above all, a piece of art all its own. Kish's introduction lends context to his approach, details his relationship and struggle with Conrad's work, and illuminates his own creative process. An index in the rear of the book catalogs the sentences and phrases that inspired each of the one hundred original pieces of art.
About the Author
Matt Kish was born in 1969 and lives in the middle of Ohio. After stints as a cafeteria cook, a hospital registrar, a bookstore manager, and an English teacher, he ended up as a librarian. He draws as often as he can, often with whatever he can find. He has tried his hand at 35mm black-and-white photography (with real film and real chemicals), making comics and zines, a bit of collage, and lots of pen and ink. Moby-Dick is his favorite novel.
Praise For Heart of Darkness…
"The brilliant mind behind Moby Dick in Pictures is back to illustrate Joseph Conrad's classic."
Flavorwire

"Darkness never looked so good: Matt Kish's illustrated edition of Joseph Conrad's classic follows the template he created with Moby-Dick In Pictures ."
The National Post

"For your friend who slept through English class, an illustrated version of a classic: Heart of Darkness, written by Joseph Conrad and illustrated by Matt Kish."
The Airship (picked Matt Kish's Heart of Darkness as one of the best books of 2013!)

"Two years after his infinitely wonderful illustrations for every page of Moby-Dick, which ranked among the best art and design books of 2011, self-taught Ohio-based artist Matt Kish returns with an equally exquisite edition of Joseph Conrad's Heart of Darkness (public library). With one haunting acrylic-paint-and-ink illustration for every page, Kish whose artwork was included in the excellent compendium The Graphic Canon, Vol. 3 reinvigorates the Conrad classic and its timeless themes of race, gender, power, privilege, and the dualities of the human soul."
Brainpickings