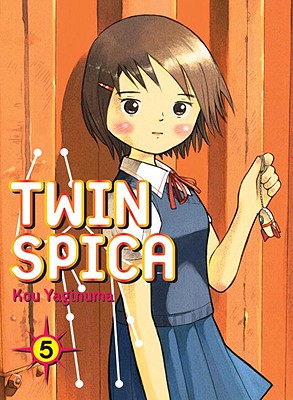 Twin Spica, Volume: 05 (Paperback)
05
Vertical, 9781935654025, 192pp.
Publication Date: January 4, 2011
* Individual store prices may vary.
or
Not Currently Available for Direct Purchase
Description
Time is flying by at the Toyko Space School and Asumi is now heading into her second of three years at the elite aeronautics academy. However, while this new transition should bring with it excitement and new challenges, Asumi has her heart and mind somewhere else. She cannot forget her old classmate. The accident took many lives and hurt countless of others. Many people have moved away, move on or have tried to forget the tragedy. But for some young people there is no chance to forget or forgive.
About the Author
Born in 1973 in the Iidabashi district of Tokyo, comic artist Kou Yaginuma made his debut with the Twin Spica pilot story The Fireworks of 2015 (originally published in the July 2000 issue of Media Factory's Comic Flapper magazine). That heartfelt story coupled with Yaginuma's warm artwork won the young artist won over many comic fans on his way to becoming the year's biggest new artist.

He followed his debut with a follow up mini-series called Asumi focusing on the early childhood of Twin Spica's young heroine Asumi Kamokawa. The Asumi series was such a runaway success Media Factory signed Yaginuma up to pen Twin Spica for Comic Flapper in the Fall of 2001.

Since Twin Spica's debut, Yaginuma has drawn promotional illustrations for the NHK, Japan's PBS. He has also worked with Japan's brightest young animation director Makoto Shinkai drawing the cover art for the novelization of Shinkai's internationally recognized one-man CG movie Voices of a Distant Star.

Twin Spica is Yagunuma's English language debut.
Praise For Twin Spica, Volume: 05…
"Twin Spica is told with an uncommonly graceful blend of optimism and melancholy. Kou Yaginuma takes his sci-fi premise seriously, and he treats his characters with warmth and intelligence. Strongly recommended." —MangaReporter

"The storytelling is direct and simple without being didactic, filled with the kind of characters that younger readers will recognize and embrace as true to their own experiences. At the same time, however, Twin Spica''s subtexts are rich enough to sustain an adult's interest as the supplemental stories '2015: Fireworks' and 'Asumi' attest… A beautiful, thought-provoking book for star gazers of all ages." —The Manga Critic

"This delightful comicbook epic has everything: plenty of hard science to back up the savvy extrapolation, a believable, likable cast, an enduring mystery, tender moments, isolation and teen angst, dawning true friendships, all wrapped up in a joyous coming-of-age drama with supernatural overtones and gobs of pure sentiment. This tale reinvigorates the magical allure of the Wild Black Yonder for a new generation and is a treat no imagineer with head firmly in the clouds can afford to miss.."
—Comics Review (U.K.)
Advertisement