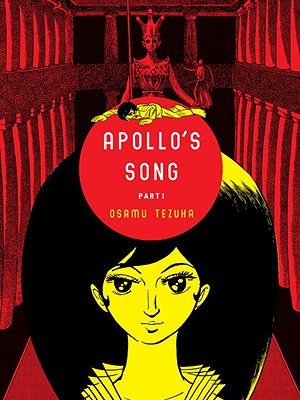 Apollo's Song, Part One (Paperback)
Vertical, 9781935654049, 288pp.
Publication Date: August 31, 2010
* Individual store prices may vary.
or
Not Currently Available for Direct Purchase
Description
Apollo's Song follows the tragic journey of Shogo, a young man whose abusive childhood has instilled in him a loathing for love so profound he finds himself compelled to acts of violence when he is witness to any act of intimacy or affection whether by human or beast. His hate is such that the gods intervene, cursing Shogo to experience love throughout the ages ultimately to have it ripped from his heart every time. From the Nazi atrocities of World War II to a dystopian future of human cloning, Shogo loses his heart, in so doing, healing the psychological scars of his childhood hatred.
Master storyteller Osamu Tezuka's Apollo's Song is a lyrical tour-de-force on the human spirit, the destruction of hate, and the triumph of love.
About the Author
Osamu Tezuka was born on November 3, 1928, in Osaka. He grew up in an open-minded family exposed to comics and Walt Disney. As a boy he also had a love for insects, which he would later as a grown-up incorporate into pen name. Having developed an intense understanding of the preciousness of life from his wartime experience, Osamu Tezuka aimed to become a physician and later earned his degree in medicine, but ultimately chose the profession he loved best: manga artist and animated film writer.

Tezuka's manga and animated films had a tremendous impact on the shaping of the psychology of Japan's postwar youth. His work changed the concept of Japanese comics, transforming it into an art form and incorporating a variety of new styles in creating the "story cartoon." Osamu Tezuka lived out his entire life tirelessly pursuing his efforts, passing away at the age of 60 on February 8, 1989.

In all, Tezuka produced more than 150,000 pages of graphic storytelling before his death.
Praise For Apollo's Song, Part One…
"A marvelously screwed-up paean to the power of love and sex […] The story is as emotionally manipulative as a classic Disney movie, and just about as unstoppable"—Salon.com

"Maybe it's a good thing Apollo's Song wasn't published in the West until now. Had it appeared there when it first came out, its peculiarity would surely have been dismissed. But now comics sit at the table with the grown-ups, and we should clear a space at the head for Osamu Tezuka and his masterpiece." —Newsweek
Advertisement