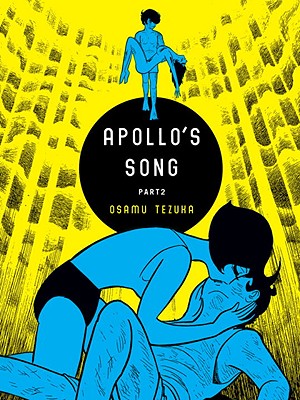 Apollo's Song, Part 2 (Paperback)
Vertical, 9781935654056, 259pp.
Publication Date: August 31, 2010
* Individual store prices may vary.
or
Not Currently Available for Direct Purchase
Description
In this second half of Apollo's Song, Shogo, a young man whose abusive childhood has instilled in him a loathing for love, begins to see the virtues of love as he repeatedly experiences love lost from within the depths of his mind. Throughout the ages, his affections for others would bring him inspiration, strength and ultimately joy, unfortunately having been punished by the Gods each time a senerio appeared to be headed towards an ideal ending he would have love ripped from his heart every time. Shogo loses his heart and his soul in the process, before tragically dealing with the psychological scars of his childhood hatred.
Master storyteller Osamu Tezuka's Apollo's Song is a lyrical tour-de-force on the human spirit, the destruction of hate, and the triumph of love.
About the Author
Osamu Tezuka was born on November 3, 1928, in Osaka. He grew up in an open-minded family exposed to comics and Walt Disney. As a boy he also had a love for insects, which he would later as a grown-up incorporate into pen name. Having developed an intense understanding of the preciousness of life from his wartime experience, Osamu Tezuka aimed to become a physician and later earned his degree in medicine, but ultimately chose the profession he loved best: manga artist and animated film writer.

Tezuka's manga and animated films had a tremendous impact on the shaping of the psychology of Japan's postwar youth. His work changed the concept of Japanese comics, transforming it into an art form and incorporating a variety of new styles in creating the "story cartoon." Osamu Tezuka lived out his entire life tirelessly pursuing his efforts, passing away at the age of 60 on February 8, 1989.

In all, Tezuka produced more than 150,000 pages of graphic storytelling before his death.
Praise For Apollo's Song, Part 2…
"The paradox is that what's essentially the same story, filtered through various historic and fantastic milieus, not only holds our interest but also sparks a satisfaction deeper than the sum of its episodes. We know what's going to happen, but Tezuka's shamelessly entertaining storytelling and versatile art make repetition a giddy and even profound pleasure."—The Los Angeles Times

"Apollo's Song deserves the close reading of a literary novel and will reward those who do so."
—Bookslut
Advertisement