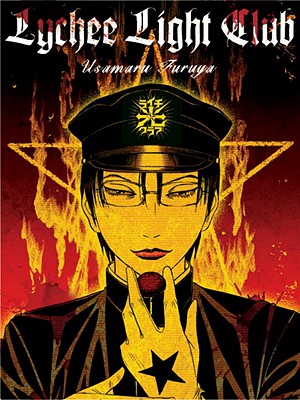 Lychee Light Club
Paperback

* Individual store prices may vary.
Description
The Lychee Light Club is considered Usamaru Furuya's breakthrough work. Originally designed as an experiemental project Lychee's themes of youthful rebellion and deus ex machina destruction, and attractive designs eventually won over a new generation of readers and critics, leading the way for Furuya to take on his many recent high profile properties.

In an abandoned warehouse, a band of nine students have assembled to plot out a new future.  Their "leader" Zera is determined to cleanse his community of the ugly and cowardly. Having taken command of a band of young men to build him a god-like machine capable of changing the world.  This machine, named "Lychee," will give them what they've been searching for...a beauty of the finest quality.

A surreal yet touching horror comedy Furuya's Lychee Light Club that mixes elements of French Le Théâtre du Grand-Guignol and with modern day pop culture tropes and is set in modern day Tokyo. Shocking, sexy and innovative, the Lychee Light Club is at the pinnacle of modern day Japanese seinen manga (young adult comics).
Praise For Lychee Light Club…
"Lychee Light Club is unflinchingly graphic, and as such it requires a certain taste of its audience. Those who can stomach its depravity will be amply rewarded. Furuya's grimly elegant style […] is a perverse kind of beauty, as visually bold and exploratory as its subject matter. One thing's for sure, you'll never look at lychee the same way again." —Otaku USA

"Furuya at his most deranged—a masterpiece of gore and debauchery that will have your brain screaming in horror even as you read on in rapture. The plotline is simple enough—the Light Club's descent into madness shows how absolute power corrupts absolutely—but the complex themes and details make it unforgettable… It's shocking, disturbing, revolting—and an instant pick for one of the year's best. Grade: A-" —Anime News Network

"It's a gripping read—quite literally—as when it arrived I began absent-mindedly reading the first few pages and ended up sitting down in my kitchen and reading the whole book in one sitting… If you're looking for something violent, sexual, revolting and thought-provoking, then Lychee Light Club is a solid pick. It's definitely one of the better manga I've read so far this year. Score: 9/10" —Japanator

"The manga is in a way a tragic love story and a horror novel at the same time that will leave the reader a bit shocked and enthralled… The translations all read well and their placement is great, avoiding getting in the way of the images… A great read. Grade: 4.5/5" —Examiner.com

"Gore so lovingly depicted that it almost transcends and becomes art… Make no mistake about it, this is a book filled with sadism, horrific violence and sexual situations, and depraved behavior. But it has a human heart in its Frankenstein-esque robot, and what I'll take from it is not the scenes of people being cut open and smashed into bits… More manga as thought-provoking as this, please." —A Case Suitable for Treatment

"[Furuya's art] is refined and delicate with a dark edge...It's a creative, cerebral, and occasionally wry take on a genre that usually favors action over irony."--About.com

"[Design] is undoubtedly Furuya's chief asset as an artist and he deploys this in spurts throughout the work at hand. Furuya's approach is akin to a type of popular surrealism which owes much to Dali and Magritte."--Hooded Ultilitarian
Vertical Comics, 9781935654063, 320pp.
Publication Date: April 26, 2011
About the Author
Usamaru Furuya was born in Tokyo, Japan on January 25th, 1968. A graduate of the Tama Arts University, with a focus on oil painting, Furuya is currently considered one of the most talented artists in the industry today. A former student in the Osamu Tezuka Manga Correspondance Program, Furuya's drawings as a teen were often published in the pages of the seminal boys comics magazine Shounen King.

Upon entering high school, Furuya began to embrace his darkside experimenting with subculture and the undergroud art scene. An early participant in the Tokyo version of the Le Théâtre du Grand-Guignol, he started off with them creating puppets and set designs for their elaborate performances. After graduating from university, Usamaru turned his attention to the world of comics. His early projects combined the surreal with extremely modern political commentary winning him critical acclaim worldwide for his juxtapositions of Tokyo youth and their suit wearing salaryman counterparts. Since his debut in 1994, Furuya has gone to draw 16 titles for Japan's leading comics publishers Shogakukan and Shueisha (publishers of Shonen Jump).
or
Not Currently Available for Direct Purchase