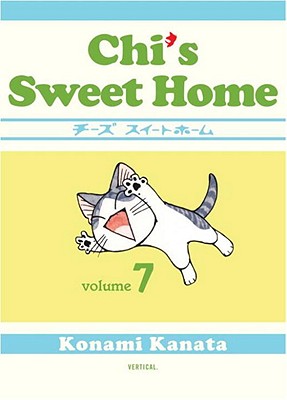 Chi's Sweet Home, Volume 7 (Paperback)
Vertical, 9781935654216, 168pp.
Publication Date: October 18, 2011
Description
Chi is a michievous newborn kitten who on a leisurely stroll with her family finds herself lost and alone. Seperated from the warmth and protection of her mother, desperately attempts to reunite with her family of feral cats. When the kitten feels all hope is lost, she is found in a park by a young boy named Yohei and his mother. After taking a tumble Yohei feels just as distraught as the kitten he sees before him, and he quickly takes comfort in feeling a sense of sympathy with the cat. And before she could even know what hit her, the little kitty was picked up and soon under the protection and care of Yohei's family--the Yamada's. Every moment of their daily life is filled with something we can all cherish. In the seventh volume of Chi's Sweet Home, the titular feline heroine of this series finds herself in her biggest predicament yet. While exploring her new neighborhood with a new young feline peer, she becomes lost as a downpour has masked the scents she was so heavily relying upon for direction. Confused and hungry the two decide to hunt around the community for scraps as substanance. After searching for leftovers and meals left for other unaware pets turned fruitless, Chi and her new friend Cocchi resort to more extreme measures to keep their energy flowing.
About the Author
Konami Kanata was born on July 3, 1958, in Nagano, Japan. A veteran manga artist Konami made her professional debut in 1982 with the serialized comic Petit Cat Jam-Jam for Kodansha's semenal shoujo manga magazine NakaYoshi. The daughter of an elementary school teacher, most of Konami's stories are for readers of all ages making her one of the most accessible artists in recent history. In her nearly thirty year career, Konami has penned more than a dozen comic series, with the majority of them focusing on cats and pets. Konami is well regarded within the pet-manga community for her keen sense of cat ecology. Her ability to observe and render feline behavior has earned her respect from the Japanese manga community as a whole
Praise For Chi's Sweet Home, Volume 7…
"[Chi] is nothing but the funny, simple moments of a kitten and it's adopted family. It's meant for anyone to enjoy so any kid who likes animals will love it." —All About Manga

"Just about any decent artist can draw an adorable cat. However, it often seems that only a Japanese hand can portray adorable felines at the height of their potential, and Chi's Sweet Home Volume 1 by Konami Kanata is another example of Japan's amazing talent for portraying almost lethally cute characters." —SCPL Teen Blog
Advertisement