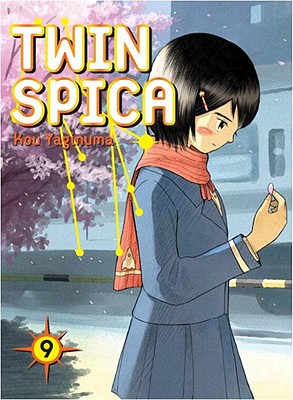 Twin Spica, Volume: 09 (Paperback)
09
Vertical, 9781935654230, 272pp.
Publication Date: September 6, 2011
* Individual store prices may vary.
or
Not Currently Available for Direct Purchase
Description
In a Tokyo in the not too distant future a young girl studies deligently with ambitions of soon attending space academy. If things work out just right, her future may very well be among the stars as well. And yet, everytime she looks up to the stars with tremendous hope for the future, there is a sense of melancholy in her heart. A sadness surrounds Asumi, as the very concept of space exploration has profoundly influenced her life for as long as she can remember.

In the ninth volume of Twin Spica, Asumi and her classmates are getting closer and closer towards graduation, and changes in store for this group of friends. There will be good-byes to be said and that might end up causing some tension within this group. Some of that friction might be spurred on from outside of the Tokyo Space School as the media has caught on to the identities of at least one prime candidate.
About the Author
Born in 1973 in the Iidabashi district of Tokyo, comic artist Kou Yaginuma made his debut with the Twin Spica pilot story The Fireworks of 2015 (originally published in the July 2000 issue of Media Factory's Comic Flapper magazine). That heartfelt story coupled with Yaginuma's warm artwork won the young artist won over many comic fans on his way to becoming the year's biggest new artist.

He followed his debut with a follow up mini-series called Asumi focusing on the early childhood of Twin Spica's young heroine Asumi Kamokawa. The Asumi series was such a runaway success Media Factory signed Yaginuma up to pen Twin Spica for Comic Flapper in the Fall of 2001. Since Twin Spica's debut, Yaginuma has drawn promotional illustrations for the NHK, Japan's PBS. He has also worked with Japan's brightest young

animation director Makoto Shinkai drawing the cover art for the novelization of Shinkai's internationally recognized one-man CG movie Voices of a Distant Star.
Praise For Twin Spica, Volume: 09…
"It has a really timeless, very classic manga feel to it… A very good read, with plenty of challenges for a nice assortment of likeable characters… I'm looking forward to following the whole thing." —Comic Book Resources

"Twin Spica is grounded in realism, and takes slow, purposeful steps in laying out its story, illustrated in a classic style that avoids both outrageousness and cutesiness. Because the work is a natural charmer with a protagonist you care about deeply shortly after the outset, this first volume gets you hooked in no time; the remaining books can't come out fast enough." —Bookgasm
Advertisement