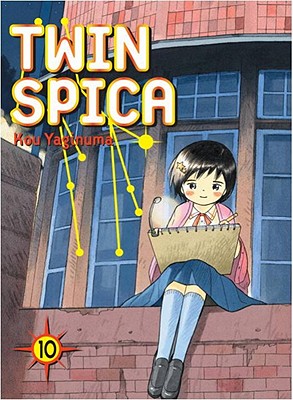 Twin Spica, Volume: 10 (Paperback)
10
Vertical, 9781935654247, 272pp.
Publication Date: November 1, 2011
* Individual store prices may vary.
or
Not Currently Available for Direct Purchase
Description
With only months left in their training, Asumi and those left in the Tokyo Space School's first astronaut training class have a new and potentially defining task at hand. From the moment they enrolled, these teens were under the assumption that the future of space exploration would be at the hands of their generation. At least one of them would lead JAXA into the cosmos to revitalize a once dead program. But in the nearly three years they have spent training their bodies and minds, science appears to have caught up to them.
 
In the tenth volume of Kou Yaginuma's Twin Spica an astronaut will be selected and the choice may not be so obvious. And while this future space traveler has shown plenty of potential and talent it is clear they couldn't have made it without some help. Though the mystery is whose help, and will this person last without that support.
About the Author
Born in 1973 in the Iidabashi district of Tokyo, comic artist Kou Yaginuma made his debut with the Twin Spica pilot story The Fireworks of 2015 (originally published in the July 2000 issue of Media Factory's Comic Flapper magazine). That heartfelt story coupled with Yaginuma's warm artwork won the young artist won over many comic fans on his way to becoming the year's biggest new artist.

He followed his debut with a follow up mini-series called Asumi focusing on the early childhood of Twin Spica's young heroine Asumi Kamokawa. The Asumi series was such a runaway success Media Factory signed Yaginuma up to pen Twin Spica for Comic Flapper in the Fall of 2001. Since Twin Spica's debut, Yaginuma has drawn promotional illustrations for the NHK, Japan's PBS. He has also worked with Japan's brightest young animation director Makoto Shinkai drawing the cover art for the novelization of Shinkai's internationally recognized one-man CG movie Voices of a Distant Star.
Praise For Twin Spica, Volume: 10…
"Ultimately, the manga surprised me. Reading about Twin Spica's lead trying to go into space, I got choked up. It is more sensitive and naturalistic than other space academy manga (even ones I've liked)..."--Ain't It Cool News
Advertisement