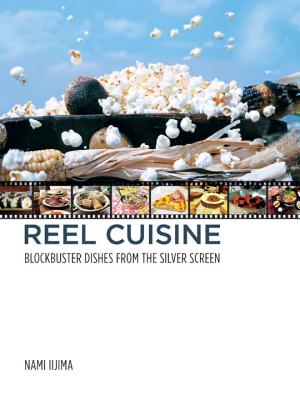 Reel Cuisine: Blockbuster Dishes from the Silver Screen (Paperback)
Blockbuster Dishes from the Silver Screen
Vertical, 9781935654261, 95pp.
Publication Date: November 29, 2011
* Individual store prices may vary.
or
Not Currently Available for Direct Purchase
Description
REEL CUISINE is like the Academy Awards of Gastronomy. Professional food stylist Nami Iijima has worked on the sets of more than a dozen international films and TV programs. Her dishes have inspired hunger across the globe. The Finnish/Japanese
co-production "Seagull Diner" was partially inspired by her scrumptious and worldy dishes.
In her first English language release Iijima collects recipes from more than seventy feature films, including the following Oscar winners and nominees allowing people in Iowa or New Zealand to finally taste the dishes and delights from Hollywood's biggest and best movies.
Film Inspired Dishes include:
The Godfather - Homemade Spaghetti Primavera
Kramer vs. Kramer - French Toast
Eat Drink Man Woman - Taiwanese Spring Vegetables with Crab Sauce
Good Morning, Vietnam - Chicken Dumpling Pho
TransAmerica - All-American Hamburgers
Witness - Philly Franks
Fried Green Tomatoes Fried Chicken
Misery Anne's Scambled Eggs
Miracle on 34th Street Christmas Roast Chicken
Life is Beautiful Salmon Sautee
Amelie Creme Brule
Small Time Crooks Chocolate Fudge Cookies
JUNO Stacked Potatoes
Notting Hill Brownies
Chocolat Raw Chocolate
and many more.
About the Author
Born in 1969 Tokyo native Nami Iiijima is what is known in the film industry as a professional food-sylist. Iijima has designed and coordinated dishes featured in commercials, TV and film worldwide for the past decade. Iijima developed her talent working in commercials in the early part of the new century. Her accounts included Cupie Mayonaise and Ajinomoto. In 2003 Iijima would move on to take her talents to another realm within the small screen, where her dishes often became the centerpieces for award winning food-themed TV dramas. Developing and presenting numerous meals per episode Iijima would come to induce hunger across Asia with her wholesome and mouth-watering dishes. Iijima's delights would make their motion picture debut in 2006 in the Finnish movie Seagull Cafeteria. She would later design meals for the award-winning Lili Franky biopic Mom and Me, and Sometimes Dad. With credits in a dozen movies, Iijima would eventually share her talents with the public, first by publishing a cookbook based on the Mom and Me film, then by following that up with seven more books and a regular column through Itoh News' Hobonichi web magazine.
Advertisement