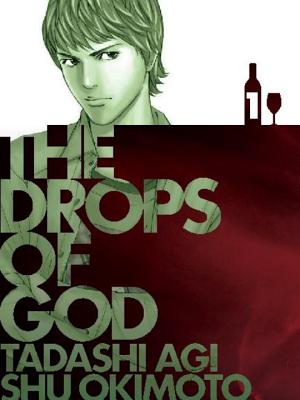 Drops of God, Volume '01 (Paperback)
Les Gouttes de Dieu
Vertical, 9781935654278, 432pp.
Publication Date: October 18, 2011
* Individual store prices may vary.
Description
Few comics have ever exhibited such sway over the economics of an industry as the Drops of God. The legendary wine comic that dictates wine market prices worldwide is now available in English for the first time!

A wine critic and his adopted brother must compete against each other to determine who will inherit their father's estate--a wine collection featuring 13 heaven blessed wines.

Shizuku Kanzaki is the son of a recently deceased, world renowned wine critic named Yutaka Kanzaki. In order to take ownership of his father's legacy, an extensive wine collection featuring some of the most rare labels of the last 30 years, he must find 13 wines, known as the "Twelve Apostles" and the heaven sent "Drops of God" that his father described in his will. But despite being an only child, Shizuku is not alone in this unique wine hunt. He has a competitor. Issei Tomine, a renowned young wine critic, was recently adopted into the Kanzaki family and is also vying for this most rare of prizes.
About the Author
Tadashi Agi is the penname used by the best-selling brother and sister duo Shin and Yuko Kibayashi. Veteran writers the Kibayashi's debuted on the Japanese scene with the award-winning and best-selling comic series Kindaichi's Case Files (published in English by Tokyopop). Agi's next hit was the series GetBackers, which would cement the pair as Japan's most innovative thriller mystery writers of the early part of the new century. GetBackers success would extend across the globe becoming a strong seller in the US

Yuko and Shin Kibayashi are also well regarded wine enthusists who were also voted one of Decanter magazine's 50 most influencial people in the wine industry in 2009. They have been featured in interviews with the New York Times, CNN, and Wine Aficionado regarding global wine trends.

Shu Okimoto is a veteran comic illustrator and book jacket designer.
Praise For Drops of God, Volume '01: Les Gouttes de Dieu…
"Through the dramas of their wine-drinking characters, the (Tadashi Agi) instructs readers on how to taste wine. It's hilarious, for sure, when a young woman swoons over a man's decanting skills, but it's also a great way to draw attention to the technical proficiency of a beautiful pour without getting too technical. And that's what's truly extraordinary about Drops of God: It makes learning about wine—which, let's face it, can be a totally tedious thing for the non-obsessed—really fun... Seriously, this is juicy stuff!" -- GILT

"Absolute page-turner… It's the sweeping two-page illustrations of taste-transporting moments (a shirt-tearing jam by rock band Queen, a maiden fleeing through strawberry fields) that better capture wine's great allure than a thousand dry scribblings on history and weather conditions." —Time Out New York

"An almost psychedelically beautiful work… It's like Speed Racer crossed with Wine Spectator." —The Daily Dish (LA Times)

"Visually stunning and effortlessly entertaining… To top it off, reading Drops is a trippy literary experience… Don't be surprised if you crush this book in one night. It's pretty impossible to put down once you pick it up." —Bottlenotes (The Daily Sip)

"I have already ordered the second volume (out in December) and I guess that in terms of reviews that is a definitive statement." —Wine Psych

"Presents some complex wine topics in an easy to understand manner, without talking down to the consumer… I urge all wine lovers to take a look, with an open mind, at The Drops of God. Give it a chance and you might be surprised at how much you enjoy it."
—The Passionate Foodie

"Penchants for French wines drive the selection of vinos described with dramatic, often fanatical detail." —Wine Enthusiast
or
Not Currently Available for Direct Purchase