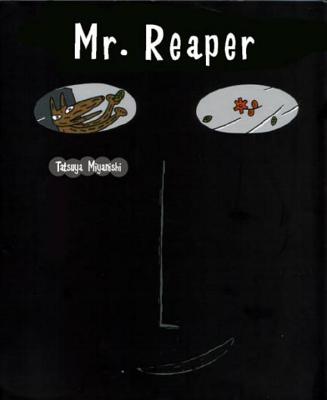 Mr. Reaper
Hardcover

* Individual store prices may vary.
Description
A hungry wolf searches the forest for a long-awaited meal, when his senses find something. At first he is not certain if his mind is playing tricks on him, but before him is a young piglet resting in a clearing. His wish has come true! He can eat again!

But there is something about this piglet that does not settle well with the wolf. The piglet seems to not be resting, at all. Instead, she appears to be in great pain.
Feeling guilty for wishing to take advantage of a being in need, the wolf takes the piglet into his home. And then begins a long and brave process to prepare for the piglet's future, whether its health turns for the better or worse.

Watching over the two is the story's narrator...Mr Reaper. Finding Mr Reaper is part of the tale, as his eyes lead the cast through many trials and a very unusual ending.
Vertical, 9781935654285, 40pp.
Publication Date: April 24, 2012
About the Author
Born in 1956 Tatsuya Miyanishi is one of the most popular childrens book artists currently in Japan. A graduate of the Nihon Universtiy College of Art's Fine Arts department Miyanishi is an artist in almost a renaissance sense. While most of his works tend to be oversized children's books, often featuring 50cm tall trim sizes, Miyanishi has also been known to dabble in Paper Dramas, planetarium programming, essays and grade-school level text books. His kids books cover a wide range of genres from superheroes to dinosaurs and everything in between. Over his career he has penned more than 75 books and last year his title Aren't You Delish was adapted into an animated film by Ajia-Do.

Mr. Reaper is Miyanishi's first book in English, but many of his books have been translated into French, Chinese, and Korean. He has won the Kodansha Cultural Award in the Picture Book category, as well as the Kenbuchi City Picture Book Village Award.
or
Not Currently Available for Direct Purchase