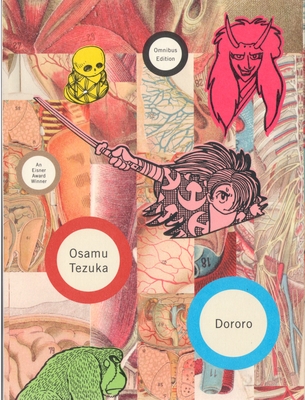 Dororo: Omnibus Edition (Paperback)
Omnibus Edition
Vertical, 9781935654322, 844pp.
Publication Date: March 20, 2012
Description
Previously published in three installments, the entire run of comic master Osamu Tezuka's enduring classic is herewith available in one volume at a new affordable price. The lauded adventures of a young swordsman and his rogue sidekick that also inspired the cult video game Blood Will Tell have never been as accessible.
A samurai lord has bartered away his newborn son's organs to forty-eight demons in exchange for dominance on the battlefield. Yet, the abandoned infant survives thanks to a medicine man who equips him with primitive prosthetics - lethal ones with which the wronged son will use to hunt down the multitude of demons to reclaim his body one piece at a time, before confronting his father. On his journeys the young hero encounters an orphan who claims to be the greatest thief in Japan.
Like an unforgettable road movie, Dororo reaches deeper than its swashbuckling surface and offers a thoughtful allegory of becoming what one is, for nobody, in born whole.
About the Author
Osamu Tezuka was born on November 3rd, 1928, in Osaka. He grew up in a liberal family exposed to manga and Walt Disney. As a boy he also had a love for insects; as a grown-up he would incorporate the ideogram for -insect- into his pen name. Having developed an intense understanding of the preciousness of life from his wartime experience, Tezuka Osamu aimed to become a physician and later earned his license, but ultimately chose the profession he loved best: manga artist and animated film writer.
Praise For Dororo: Omnibus Edition…
2009 Eisner Award Winner

"By far Tezuka's edgiest work at that point in his career, this series is riveting and, frankly, creepy as hell, with Tezuka's signature 'cute' style offering a welcome counterpoint to the visceral horrors depicted. Highly recommended." —Publishers Weekly
"The premise and Tezuka's eerie renditions of larval Hyakkimaru and the monsters that come after him is unusually effective and chilling." —The Onion A.V. Club
"It's the pioneer of the manga tradition wading neck deep into the mire of freakish swordsmen, ghouls and historical messiness: Kurosawa and Leone meets Romero… Dororo stands as a classic that showcases Osamu Tezuka's unique approach to manga and to the world."—
Aint't It Cool News
"Sleek in design and swift in pacing, the story's blend of mayhem and laffs and depression creates a uniquely chaotic world… The monster designs are excellent, ranging from detailed etchings to gargantuan masses of doomy scribbles." —Jog-The Blog
Advertisement