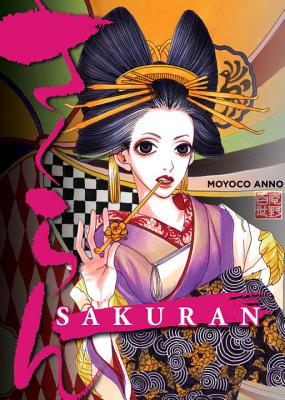 Sakuran: Blossoms Wild (Paperback)
Blossoms Wild
Vertical, 9781935654452, 308pp.
Publication Date: July 17, 2012
* Individual store prices may vary.
or
Not Currently Available for Direct Purchase
Description
Kiyoha may wear the similar fancy kimono-dresses butshe isnot your everyday geisha. The hairstyle may be the sameand she may have some of the finest clientele comparable to thoseof the most refined women in all of Kyoto, but she is not in the home of geisha and their maiko assistants. Instead, Kiyoha is in Yoshiwara, the infamous red-light district located in northeast Tokyo. And instead of being a respected geisha artisan, she is an oiran, a courtesan.
Kiyoha didn't choose this life. She wasforced into this world at an early age for one reason...she had spunk. A fire burned within her as a child. She would rather fight than cry, and she would always fight if ever put at risk. She caused her caretakers so much grief their best solution was to give her a purpose to be strong and maybe a chance to develop a life on her own. But getting to that point would take years of heartache and misery. Kiyoha's entire life has been in chaos, and she has blossomed in it.
About the Author
Tokyo native Moyoco Anno was born March 26, 1971. Known as one of the major names in Japanese women's comics, she is equally known for her iconic fashion designs and as a fashion writer. Her manga and books have attained considerable

popularity among young women in Japan. Though she primarily writes manga for women, her most popular title in the west is Sugar Sugar Rune, which was targeted at primary school-aged girls. In a recentJapanese poll, she was voted the eighth most popular manga artist among females and thirteen in the general category. Most of her works have been adapted for film or TV, including SAKURAN, Hataraki-Man, and Sugar Sugar Rune. In 2005, Anno's Sugar Sugar Rune won the comic artist the prestigious Kodansha Comics Award."
Praise For Sakuran: Blossoms Wild…
"Anno's unique style, with its huge eyes (even for manga) and fashion-influenced design, and her off-kilter female personalities are put into a Japanese period piece. Although perhaps best known here for the children's series Sugar Sugar Rune, her josei work, Happy Mania, is closer in tone to this stand-alone volume...The demanding book rewards attention and is not for new manga readers; best for those experienced with the format seeking something a bit out of the ordinary for adults." - Publishers Weekly


"Moyoco Anno, the writer and artist takes a calculated risk by starting off with Kiyoha in full bloom of her brassy antagonism, and then jumping back to show us how she got that way — or rather, to show us how her always-extant stubbornness and bad attitude might well have been the only thing keeping her fire alive...Sakuran is further proof that a bad attitude can be a great thing." - Genji Press


"If Sakuran sounds like a hectoring treatise on prostitution, rest assured it's not. Anno creates a vibrant, fascinating world, teeming with people from every walk of life. Though her female characters have limited agency, they nonetheless find opportunities to exert influence over their customers, improve their social standing, and choose their own lovers... It seems only fitting that the story ends not with the outcome that a modern reader might choose for this fierce woman, but with one that reflects the heroine's own clear-eyed understanding of what she is. Highly recommended." - The Manga Critic


"Sakuran is a bit of a challenge for those who don't read a lot of manga, because the story is very compressed. However, the fascinating subject matter and Anno's jerky, expressive art should make up for that." - Robot 6
Advertisement