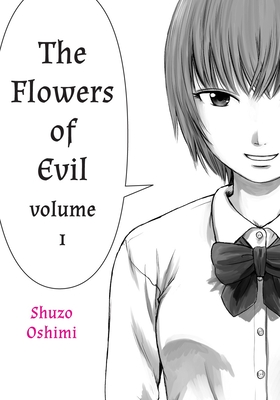 Flowers of Evil, Volume 1 (Paperback)
Vertical, 9781935654469, 202pp.
Publication Date: May 8, 2012
* Individual store prices may vary.
or
Not Currently Available for Direct Purchase
Description
Takao Kasuga is a bookworm. And his favorite book right now is Baudelaire's Flowers of Evil. While the young man may often be seen lost in thought as he rabidly consumes page after page, Takao is not much of a student. Actually when we are first introduced to the middle school teen, we find him sneaking some reading as he receives and F on a recent language exam.
Nakagawa is known as the class bully. When she is not receiving zeros she is usually muttering profanities to those around her. While she doesn't care for books or their readers, she does have a thing for troublemakers. Takao may not be one, but having read over his shoulder a few times, she knows he is not very innocent. If anything he is bored and aware of it.
Together, by chance, they shake up their entire rural community as Takao tries to break out of his shell in a random moment of passion and affection...not directed towards Nakamura. And contrary to Takao's predictions, the girl he was falling for, Nanako Saeki, responds by eventually accepting the bibliophile for who he is. Or at least, who she thinks he is.
And therein lies the conflict. Takao is not a hero. He is not trouble-maker, either. He is a regular teen who through equal moments of cowardice and chivalry takes a long step towards adulthood as he desperately tries to cover up a dark secret. Takao Kusuga has stolen an item precious to someone he is attracted to, and if he doesn't form a "contract" with his new best friend, she is going to tell.
About the Author
At only 30 years of age, Shuzo Oshimi is already considered a seasoned veteran of the Japanese comics community. Winner of the most important comics awards for newcomers, the Tetsuya Chiba Award in 2001, Oshimi has been penning quirky slice-of-life dramas now for a decade for major manga publishers such as Kodansha and Futabasha. Raised in the slow laid back hills of Gunma, in mid-eastern Japan, Oshimi wished to someday escape his community for bigger pastures. Living solely off of comics and books, he is a man of words and that shows in his very humanist stories. While he has drawn nine series in the past decade, Oshimi's star began to climb just recently in 2008 with the release of his first hit Drifting Net Cafe. This horror-themed homage to the legendary Kazuo Umezzu work, Drifting Classroom, was adapted into a live action series and propelled Oshimi onto an international stage. He would soon reach new heights in 2009 with his most recent series Flowers of Evil. In 2010 and 2011, the property quietly landed on numerous must read lists and has helped revitalize the shonen genre.
Praise For Flowers of Evil, Volume 1…
"Oshimi uses surreal imagery—a wall of eyes, a fun-house mirror, a giant sink hole—to suggest that Kasuga's normal teenage discomfort with sexual feelings has become something more powerful and destructive: shame...That said, The Flowers of Evil is a shockingly readable story that vividly—one might even say queasily—evokes the fear and confusion of discovering one's own sexuality. Recommended." —The Manga Critic

"[The Flowers of Evil], living up to its name, is a story that starts out very much like a seed that has only just been planted. That seed may represent Kasuga's perversion, his progress towards becoming a different person, or perhaps Kasuga himself. The principle that matters is that this story will continue, that with Nakamura's aide and instruction, we shall eventually see this seed sprout into a flower. What will its color be?...Vertical has truly picked a wonderful, new manga to add to their already colorful repertoire." —Monor Manga Impressions
Advertisement