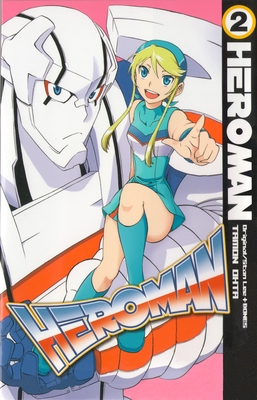 Heroman, Volume 2 (Paperback)
Vertical, 9781935654599, 208pp.
Publication Date: December 18, 2012
* Individual store prices may vary.
or
Not Currently Available for Direct Purchase
Description
Orphaned American teen Joseph Carter Jones, Joey, lives with his grandmother in Center City, Los Angeles. When he is not in class you can generally find the youth working diligently at a diner to help things meet at home. Joey's a bit scrawny for his age. He's not athletic or much of a bookworm. Actually he doesn't fit in anywhere, but he's got a set of friends and a few hobbies that help him cope when not busy at work. Upon hearing of a new toy robot called the Heybo, Joey becomes set on believing that acquiring said gadget will turn his life for the better. Like many impressionable teens, Joey thinks material goods can bring him good fortune, and given his life situation he could really use some luck. Unfortunately, he cannot afford to buy the machine on his meager salary. His luck changes when he picks up a broken down Heybo abandoned by a school bully. Said bully is a member of the football team and was picking on Joey because the runt was hanging out with his friend and lead cheerleader Lina. In Joey's eyes this used bot could be a source of strength. It could turn him into a hero for Lina and his school...if he could make it work. So he tries to fix the toy, and eventually names it Heroman. Initially his effort seems to go to waste as the bot refuses to function, but when Heroman gets struck by a bolt of lightning, it transforms into a giant robot.... Just in time to save his friend Lina from impending danger.
About the Author
Stan Lee is an American icon. Creator of many of the most famous comic characters of all time, Stan is almost as much of a character as the fictional figures he has penned in his 70-plus year career as a writer. Stan may best be known as the face of Marvel Comics. He was there from the time it was known as Atlas in the 40's and 50's, through the company's heydays in the 60's and 70's. He is credited as creator or co-creator of properties such as Spiderman, Silver Surfer, The Fantastic Four, The Avengers, DareDevil and The X-Men; many of which would become multi-media sensations. Throughout the years Stan has become more of an icon than a writer. He can be seen in many Marvel films. And he is a regular on the comic book circuit making appearances with his trademark "Excelsior!" catch-phrase. Tamon Ohta is a veteran comic artist. He was the 2006 SquareEnix GI GanGan Award winner for comics. Heroman will be his first series published in English.
Praise For Heroman, Volume 2…
"Heroman is great material for kids. Younger, budding manga fans should have a grand time with Heroman." - Otaku USA

"Now I bet most readers are thinking… "Oh! this is a manga so the giant eyes are sooo going to annoy me".  And this may be true.  But remember this is written by Stan Lee which is probably why this Manga feels like an American comic...I like this art a lot. It combines manga and the American comic style to create a fresh look and feel. I'll definitely be picking up the next book!" - Stumptown Book Reviews

Advertisement