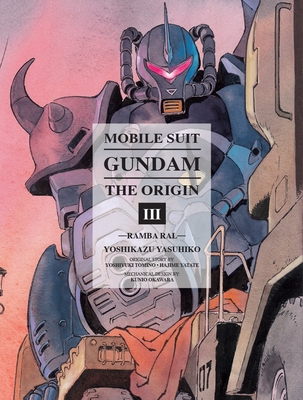 Mobile Suit Gundam: The Origin, Volume III: Ramba Ral (Hardcover)
The Origin, Volume III: Ramba Ral
Vertical, 9781935654971, 495pp.
Publication Date: September 24, 2013
Description
In the third volume of Gundam the Origin, the White Base is on the run after a successful attack against the Zeon forces in Los Angeles. As they refuel en-route to their Federation base in Jaburo, hidden in the heart of the Amazonian jungle, the crew learns they may be holding on to a new weapon just as valuable as their new Mobile Suit.
On the Zeon side, their leadership has been shaken to its core. A grand ceremony is produced in honor of a fallen Zabi youth. Shocked by this death, there are many within the Zeon ranks left frustrated with intent on seeking vengeance.
About the Author
Hokkaido native Yoshikazu Yasuhiko(1947-) is a Japanese animator and manga artist. His career as a character designer has spanned over four decades, creating famed characters for such anime as Super Atragon, Brace Raideen, and the widely known Mobile Suit Gundam. Considered a pivotal player in mecha and sci-fi anime, Yasuhiko's characters, stories and illustrations are unmistakable in their style and serve as timeless examples as pioneers of manga and animation in Japan. Yasuhiko began his career as an animator in Osama Tezuka's Mushi Productions, and later on decided to go freelance to work for a number of animation productions for both film and television. In the late 70's, Yasuhiko would turn his attention to the world of comics, as he has since penned nearly two dozen titles since. In 1981 he was awarded the Nebula Award by the Japanese Sci-Fi Association.In 1990 his work Namuji won the Japan Comic Artist Association Grand PrizeAnd in 2000 he took the Japan Media Arts Award for Best Comic with his title A Revolutionary Dog.
Advertisement