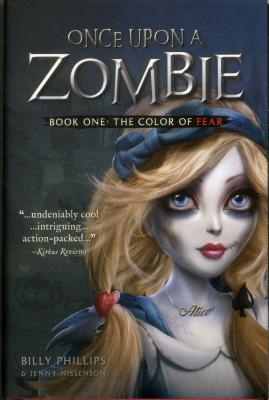 Once Upon a Zombie, Book One
The Color of Fear
Hardcover

* Individual store prices may vary.
Description
An Award-Winning Novel Your Favorite Fairy Tale Characters Walking Dead And a Twist You'll Never See Coming Fourteen-year old Caitlin Fletcher is afflicted with numerous fears and anxieties. Her life takes a turn for the bizarre when she is tricked into climbing down the proverbial "rabbit hole" landing in a wondrous fairy tale universe. Except that Wonderland, Neverland, Oz and all the fairy tale kingdoms are suddenly crawling with savage blood-eyed zombies. But what's scarier - a blood thirsty zombie, a panic attack...or a long suppressed truth? Book one of a trilogy, the award-winning YA fiction novel, Once Upon a Zombie by bestselling author Billy Philips, is dazzling both middle grade and young adult (YA) readers who love fantasy, unexpected twists an reimagined fairy tales done right Once Upon a Zombie recently receive the following awards and honors: - Best Juvenile Fiction from the Beverly Hills International Book Awards - Best Cover Design Fiction from the Beverly Hills International Book Awards - Best Pre-Teen Book from the National Indie Excellent Awards - Best Young Adult Fiction at the Purple Dragonfly Awards - Best Juvenile Fiction at the FAPA President's Award - Named to Kirkus Review's list of Best Books for 2015.
Toon Studio Press, 9781935668343, 368pp.
Publication Date: October 1, 2015
About the Author
Billy Phillips is a multi-award-winning bestselling author, creative producer and part time lecturer. He has ghost-written thirteen best selling non-fiction books, some of which surpassed a million copies sold. The award-wining middle-grade/YA novel Once Upon a Zombie is his fiction debut under his own name. His licensing company, The Toon Studio, owns one of the largest vintage collection of fairy tale books and character art in the world. Jenny Nissenson is an award-winning writer, producer and entertainer. She has written for Nickelodeon and lives in Hollywood, California with 1009 puppets and her twenty-five year old pet tortoise. Biography Billy Phillips was born in Toronto, Canada and moved his wife and four children to Los Angeles in 1994. He is an award-winning, bestselling author, produce, and lecturer who wanted to address the social anxieties and phobias that afflict young people. He has been ghostwriting for the last fifteen years, and his books have sold millions of copies. Once Upon a Zombie is his fiction debut under his own name. When one of his children suggested he write a zombie book under his own name, Billy conceived the idea of merging the iconic fairy tale characters with the zombie phenomena. Zombie Cinderella and friends were born! The book has garnered rave reviews and recognition including being named the Best Pre Teen Book by the National Indie Excellence Awards, the Purple Dragonfly Award for Best Young Adult (YA) Fiction, a double winner at the Beverly Hills International Book Awards for Best Juvenile Fiction and Best Cover Fiction. The book was just nominated and named a double Finalist and a double Medal Winner at the upcoming FAPA President's Awards Banquet being held at the Walt Disney Resort in Orlando in August 2016. Billy had the privilege of lecturing at NASA, at the Kennedy Space Center, on the subject of science, physics and spirituality, sharing compelling ideas which he interweaves in his novels. In his multi-award-winning YA fantasy novel Once Upon a Zombie, Billy envisioned the zombies as a metaphor for all those relentless negative thoughts and paralyzing fears that try to swallow us whole. The fairy tale characters are metaphor for what middle graders and young adults aspire to be. And though his breathless fantasy novel plays out in an otherworldly universe, the underlying message in this award-winning YA series is really about that unseen zombie inside all of us!
or
Not Currently Available for Direct Purchase