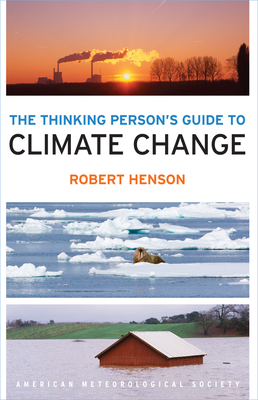 The Thinking Person's Guide to Climate Change (Paperback)
American Meteorological Society, 9781935704737, 516pp.
Publication Date: August 15, 2014
* Individual store prices may vary.
Description
Everybody can be a thinking person when it comes to climate change, and this book is a perfect roadmap.  Start a web search for "climate change" and the first three suggestions are "facts," "news," and "hoax." The Thinking Person's Guide to Climate Change is rooted in the first, up to date on the second, and anything but the last. Produced by one of the most venerable atmospheric science organizations, it is a must-read for anyone looking for the full story on climate change.

Using global research and written with nonscientists in mind, the Guide breaks down the issues into straightforward categories: "Symptoms" covers signs such as melting ice and extreme weather, while "Science" lays out what we know and how we figured it out. "Debates" tackles the controversy and politics, while "Solutions" and "Actions" discuss what we can do as individuals and communities to create the best possible future. Full-color illustrations offer explanations of everything from how the greenhouse effect traps heat to which activities in everyday life emit the most carbon. Special-feature boxes zoom in on locations across the globe already experiencing the effects of a shifting climate.

The Thinking Person's Guide to Climate Change combines years of data with recent research, including conclusions from the Fifth Assessment Report of the Intergovernmental Panel on Climate Change. This reference provides the most comprehensive, yet accessible, overview of where climate science stands today, acknowledging controversies but standing strong in its stance that the climate is changing— and something needs to be done.

The Thinking Person's Guide to Climate Change is a full update and revision of Robert Henson's The Rough Guide to Climate Change and is now published through the American Meteorological Society, with distribution through University of Chicago Press. 
About the Author
Based in Boulder, Colorado, Robert Henson is an editor at the National Center for Atmospheric Research, contributing editor of Weatherwise magazine, and a frequent guest blogger for Capital Weather Gang. He is the author of The Rough Guide to Weather and Weather on the Air: A History of Broadcast Meteorology.
Praise For The Thinking Person's Guide to Climate Change…
"If you're bewildered by the complexity of the climate change/global warming issue, and want a comprehensive, easy-to-understand guide that presents an unbiased view of the important issues, look no further than Henson's The Thinking Person's Guide to Climate Change. . . . Henson is probably the world's premier science writer in meteorology and climate change."
— Jeff Masters
"Henson has written a complete and powerful climate change science book, updating and expanding upon his The Rough Guide to Climate Change."
— National Center for Science Education
"The Thinking Person's Guide to Climate Change . . . is aimed at the general public more than the specialist. In spite of this, it is still worthy reading for professionals working in ecology, meteorology, geology, or any segment of the environmental sciences. . . . It covers most of the issues related to the topic, from geophysics to soil microbiology and through phenological changes to the impact of global warming on human life and possible political as well as technological solutions. Moreover, it does all this in such a clear and logical style, simplifying the most complex processes through a series of examples and short explanations. . . . Vivid. . . . The book does not stop with understanding, it also emphasizes the responsibility everyone has to control emissions of greenhouse gases and provides actions everyday people can take to combat climate change. . . . I wish this book were on the shelves of bookstores all around the world, translated to most languages, because this would enable the huge family of interested readers to get detailed insight into the problems climate change causes and to get involved in the battle against climate change."
— Conservation Biology