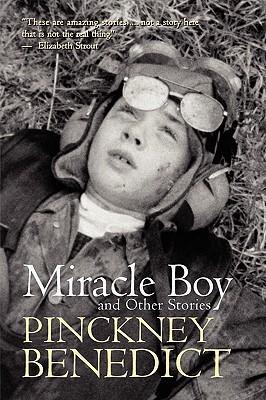 Miracle Boy and Other Stories
Paperback

* Individual store prices may vary.
Description
Miracle Boy and Other Stories represents a body of work eighteen years in the making. Benedict's last short story collection was the critically acclaimed The Wrecking Yard, published in 1992 by Nan A. Talese. That collection was followed by the Steinbeck Award-winning crime novel Dogs of God, also from Nan A. Talese/Doubleday, in 1994, which Marilyn Stasio said was written "in a vein of rare, wild beauty .... with the lyrical exactitude of Henry Thoreau on a metaphysical field trip to hell." Miracle Boy and Other Stories is a collection of fourteen stories. many of which earned appearances in The O.Henry Awards, New Stories from the South: The Year's Best, The Pushcart Prize: The Best of Small Presses, The Best of Tin House, and Mammoth Book of Best New Horror. Elizabeth Strout, winner of the 2009 Pulitzer Prize for Olive Kittridge, says, "These are amazing stories. They contain the exquisite beauty of poetry and the dense muscularity of a language that takes the reader to breathtaking heights. Never complaining, or flinching, Pinckney Benedict presses us right against the variety of human experience in ways I've never seen before. There is not a story here that is not the real thing.
Press 53, 9781935708018, 260pp.
Publication Date: May 3, 2010