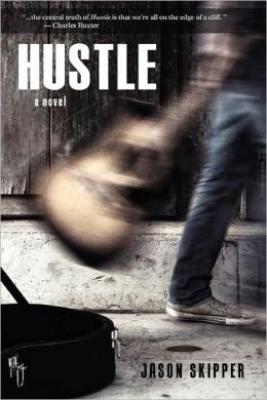 Hustle (Paperback)
Press 53, 9781935708346, 218pp.
Publication Date: May 25, 2011
* Individual store prices may vary.
Description
In this powerful debut novel, an alcoholic ex-con man grandfather, his restless, philandering seafood salesman son, and his hopeful musician grandson struggle to make up for their past and somehow set course for the future. In the past, the grandfather has hustled for money; now he's hustling for redemption. The son has hustled for women; now he's hustling for love of a different sort. His son, Chris, is hustling to be a famous musician with enough money to solve his family's unsolvable problems. Chris's coming-of-age story explores the ways people struggle to fulfill their wants and desires-and what they are willing to sacrifice to feel free.
Praise For Hustle…
Some human truths need to be presented without embellishment, and the central truth of Hustle is that we're all on the edge of a cliff. This is a fine story, honestly told.



—Charles Baxter, author of The Feast of Love







A Southern portrait of the artist as a young man, with marvelous characters that keep you reading and savoring every scene.



—Jaimy Gordon, National Book Award winner for Lord of Misrule







If works of fiction could be harnessed as alternative sources of clean energy, then Jason Skipper's assured debut novel, Hustle, would be lighting up a town. Skipper's ability to convey place reminds one of the best stories from the American South, and the memorable, vital characters that populate this book are those a reader opens a novel hoping to encounter.



—Stuart Dybek, author of The Coast of Chicago







Jason Skipper's exuberant novel, Hustle, explores the ties that—in some cases literally—bind us and all the crazy places these ties lead us. It's a funny, soulful, and vividly imagined book.



—Peter Orner, author of The Second Coming of Mavala Shikongo







Evidently, Jason Skipper was somebody's big secret until now. I just don't know how they kept him from us. Well, secret no more, folks; this genie's out of the bottle. Jason Skipper's Hustle is more than a promising first novel by an insanely talented writer; it is a haunting and ultimately exhilarating novel of the first order. He's breathed life into Chris Saxton and his benighted family, and they have breathed life into me. When I finished Hustle, I walked around for days seeing the world through its lens. Do yourself a favor, buy this book, settle into a comfy chair, and read—you will not want to stop.



—John Dufresne, author of Requiem, Mass.







Hustle succeeds at what many authors attempt but ultimately fail to achieve: prose that is both gritty and gleaming, characters raw and still real, and a story that hustles your heart and gives it back to you.



—LitChat



Hustle is a deeply felt and illuminating look at the trials of adolescence, hard enough to begin with and bordering on frontier justice when compounded by poverty, addiction and mental instability.



—Northwest Book Lovers



I can't remember the last time I read a book with a coming of age story that was so gut wrenching and heart breaking as the one presented in Hustle by Jason Skipper.



—Toothy Books



One of the best reading surprises I have had in 2011.



—Book Chase



A more than solid coming-of-age story.



— Emerging Writers Network



A superbly nuanced and captivating debut.



—blogcritics



This is a great book about growing up and learning to take care of yourself, no matter what the cost.



— Tulsa Books Examiner



Highly recommended.



— Midwest Book Review



Without question a great story.



—Word/Sound