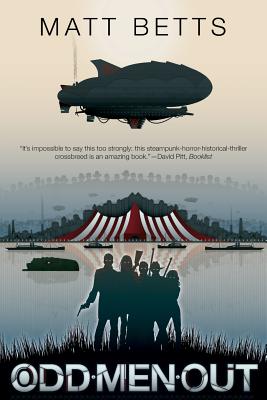 Odd Men Out
Paperback

* Individual store prices may vary.
Description
"It's impossible to say this too strongly: this steampunk-horror-historical-thriller crossbreed is an amazing book."--Booklist (starred review)
The Civil War has ended but not because the South surrendered, instead it's on hold while both sides face a new enemy-the chewers, dead men who've come back to life. Cyrus Joseph Spencer didn't fight in the war and couldn't care less about the United Nations of America that resulted from it. His main concern is making money and protecting his crew from all manner of danger. But when tragedy strikes he's forced to take shelter onboard a dirigible piloted by the U.N.'s peace-keeping force. It's soon apparent that many more dangers are lurking and Cyrus must decide whether to throw in with strangers in a desperate bid to protect the country or cast off on his own.
"The stakes are high and the action and surprises are nonstop as Betts skillfully mixes elements of steampunk, alternate history, science fiction, and horror."--Publishers Weekly
"A compelling story line, light humor, and a steampunk vibe make this an interesting and fun read."­--Library Journal
"Let the situations wash over you-in the first few pages of this book, I went from feeling like I was inside Serenity or Firefly to experiencing echoes of BioShock. It's awesome and fun."--A Geography of Reading
"Betts has built a vivid steampunk history of the Reconstruction, one where giant lizards and zombies roam a desolate United Nations of America."
--Paul Melko, Award-Winning Author of The Walls of the Universe and The Broken Universe
"Matt Betts is a god of pop culture. His debut novel, Odd Men Out, is a glorious blend of everything that is right with the sci-fi genre. He manages to put together a book with shades of Firefly, Miyazaki, and Godzilla while keeping it fresh and true to his own deliciously askew voice."
-Mercedes M. Yardley, author of Beautiful Sorrows
Dog Star Books, 9781935738466, 226pp.
Publication Date: July 19, 2013