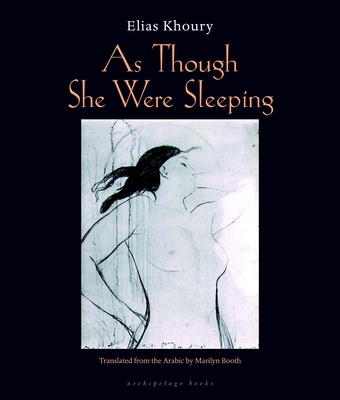 As Though She Were Sleeping (Hardcover)
Archipelago Books, 9781935744023, 372pp.
Publication Date: March 23, 2012
* Individual store prices may vary.
or
Not Currently Available for Direct Purchase
Description
Milia's response to her new husband Mansour and to the Arab World of 1947 is to close her eyes and drift into parallel worlds. Identities shift. Present, past, and future mingle and merge: she finds herself able to converse with the dead and foresee the future. As the novel progresses in glimpses, Milia's dreams become more navigable than the strange and obstinate "reality" in which she finds herself, and the two realms grow ever more entangled. This wondrous tapestry of love, faith, history, poetry, and vision cuts to the very heart of the deep-rooted conflicts of the region and breaks new literary ground.
About the Author
Elias Khoury, born in Beirut, is the author of thirteen novels, four volumes of literary criticism, and three plays. He was awarded the Palestine Prize for Gate of the Sun, which was named Best Book of the Year by Le Monde Diplomatique, The Christian Science Monitor, and The San Fransisco Chronicle, and a Notable Book by The New York Times. Khoury's Yalo, White Masks, Little Mountain, The Journey of Little Gandhi, and City Gates are also available in English. Khoury is a Global Distinguished Professor of Middle Eastern and Arabic Studies at New York University. As Though She Were Sleeping received France's inaugural Arabic novel Prize. Marilyn Booth holds the Iraq Chair in Arabic and Islamic Studies at the University of Edinburgh. Her publications include Harem Histories: Envisioning Places and Living Spaces and May Her Likes Be Multiplied: Biography and Gender Politics in Egypt. She has translated over a dozen works of Arabic fiction, including novels by Hoda Barakat, Hamdi Abu Golayyel, Alia Mamdouh, Somaya Ramadan, and Latifa al-Zayyat. Booth received the AATA Translation Prize in 81, the University of Arkansas Arabic Literature Translation Prize in 94, and was runner-up for the 2007 Saif al-Ghobashi Banipal International Arabic Translation Award."
Praise For As Though She Were Sleeping…
An enchanting hymn to the Middle East, infused with the richness and beauty of classical Arabic poetry. —The Guardian

Elias Khoury's latest novel returns to a golden age. Beirut in the 30s, unoccupied Palestine and a love affair recalled through a set of dream sequences: an Arab spring of a very different sort. —Tariq Ali, The Independent

Enthralling . . . Mesmerizing. —The Economist

Praise for NY Times Notable Book Gate of The Sun:

An imposingly rich and realistic novel, a genuine masterwork. —The New York Times Book Review

Humanity and compassion give this rich and teeming narrative its shape, creating a work that in its essence is a heartfelt plea for sanity and peace. —The Christian Science Monitor
Advertisement