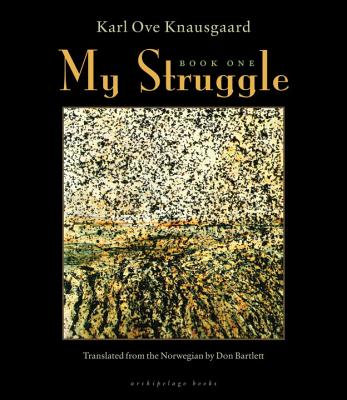 My Struggle Book One
Paperback

* Individual store prices may vary.
Description
Winner of the 2009 Brage Prize, the 2010 Book of the Year Prize in "Morgenbladet," the 2010 P2 Listeners' Prize, and the 2004 Norwegian Critics' Prize and nominated for the 2010 Nordic Council Literary Prize.
"No one in his generation equals Knausgaard."--"Dagens Naeringsliv"
"A tremendous piece of literature."--"Politiken" (Denmark)
"To the heart, life is simple: it beats for as long as it can. Then it stops. Sooner or later, one day or another, this thumping motion shuts down of its own accord. . . . The changes of these first hours happen so slowly and are performed with such an inevitability that there is almost a touch of ritual about them, as if life capitulates according to set rules, a kind of gentleman's agreement."
Almost ten years have passed since Karl O. Knausgaard's father drank himself to death. He is now embarking on his third novel while haunted by self-doubt. Knausgaard breaks his own life story down to its elementary particles, often recreating memories in real time, blending recollections of images and conversation with profound questions in a remarkable way. Knausgaard probes into his past, dissecting struggles--great and small--with great candor and vitality. Articulating universal dilemmas, this Proustian masterpiece opens a window into one of the most original minds writing today.
Karl O. Knausgaard was born in Norway in 1968. His debut novel "Out of This World" won the Norwegian Critics' Prize and his "A Time for Everything" was nominated for the Nordic Council Prize.

Praise For My Struggle Book One…
Steadily absorbing, lit up by pages of startling insight and harrowing honesty, My Struggle introduces into world literature a singular character and immerses us in his fascinating Underground Man consciousness. —Phillip Lopate

Intense and vital . . . So powerfully alive to death . . . Where many contemporary writers would reflexively turn to irony, Knausgaard is intense and utterly honest, unafraid to voice universal anxieties. . . The need for totality . . . brings superb, lingering, celestial passages . . . He wants us to inhabit the ordinariness of life, which is sometimes vivid, sometimes banal, and sometimes momentous, but all of it perforce ordinary because it happens in the course of a life, and happens, in different forms, to everyone. . . The concluding sentences of the book [are] placid, plain, achieved. They have what Walter Benjamin called 'the epic side of truth, wisdom.' —James Wood, The New Yorker

A profusion of quotidian ephemera—from binge drinking to cigarette after cigarette—serves to highlight the incommensurability of death in light of the banality of life...Knausgaard's gorgeous prose and enthralling reflections make this tome a rewarding struggle. —Publishers Weekly

It's a lucky reader who gets buried alive in this Norwegian literary avalanche. [My Struggle] is a free-wheeling, funny, smart, provocative, 471-page chunk of narrative that just keeps on coming. —Nick DiMartino, Shelf Awareness

The level of detail is the main fictioneering touch...but there's a feeling that something portentous is lurking behind the accumulating descriptions of unremarkable events. —Christopher Tayler, London Review of Books

"KARL OVE KNAUSGAARD. MY STRUGGLE. It's unbelievable. I just read 200 pages of it and I need the next volume like crack." — Zadie Smith, via Twitter
Archipelago, 9781935744184, 430pp.
Publication Date: May 8, 2012
About the Author
Karl Ove Knausgaard was born in Norway in 1968. His debut novel Out of This World won the Norwegian Critics Prize in 2004 and his A Time for Everything (Archipelago) was a finalist for the Nordic Council Prize. For My Struggle, Knausgaard received the Brage Award in 2009 (for Book One), the 2010 Book of the Year Prize in Morgenbladet, and the P2 Listeners' Prize. My Struggle has been translated into more than fifteen languages. Knausgaard lives in Sweden with his wife and three children. Don Bartlett has translated dozens of books of various genres, including eight novels and short story collections by Jo Nesbo and It's Fine by Me by Per Petterson. He lives in Norfolk, England.
or
Not Currently Available for Direct Purchase