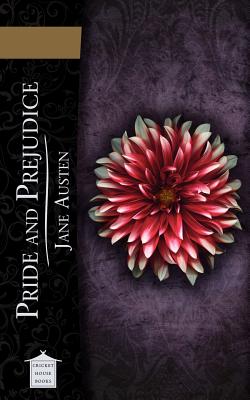 Pride and Prejudice (Paperback)
Cricket House Books, LLC, 9781935814320, 256pp.
Publication Date: December 17, 2011
Other Editions of This Title:
Paperback (9/1/2004)
Paperback (9/11/2015)
Paperback (12/19/2012)
Paperback (7/30/2008)
Paperback (5/31/2010)
Paperback (10/11/2014)
Paperback (9/8/2014)
Paperback (2/6/2015)
Paperback (12/8/2012)
Paperback (5/1/2015)
Paperback (8/12/2010)
Paperback (8/28/2015)
Paperback (10/13/2015)
Paperback (1/28/2013)
Paperback (6/27/2012)
Paperback (6/6/2013)
Paperback (3/23/2015)
Paperback (9/25/2014)
Paperback (8/11/2010)
* Individual store prices may vary.
Description
This edition of Pride and Prejudice by Jane Austen is part of The Jane Austen Collection offered by Cricket House Books. The collection includes Sense and Sensibility/1935814311, Pride and Prejudice/193581432X, Mansfield Park/1935814338, Emma/1935814346, Northanger Abbey/1935814354, and Persuasion/1935814362.________________________________Pride and Prejudice is a novel by Jane Austen, first published in 1813. The story follows the main character Elizabeth Bennet as she deals with issues of manners, upbringing, morality, education and marriage in the society of the landed gentry of early 19th-century England. Elizabeth is the second of five daughters of a country gentleman, living near the fictional town of Meryton in Hertfordshire, near London.Though the story is set at the turn of the 19th century, it retains a fascination for modern readers, continuing near the top of lists of 'most loved books' such as The Big Read. It has become one of the most popular novels in English literature, and receives considerable attention from literary scholars. Modern interest in the book has resulted in a number of dramatic adaptations and an abundance of novels and stories imitating Austen's memorable characters or themes. To date, the book has sold some 20 million copies worldwide.Source: http: //en.wikipedia.org/wiki/Pride_and_Prejudic.
About the Author
Born December 16, 1775, Jane Austen is one of the most celebrated authors of the English language. Her fiction is known for its witty satires on English society. Austen wrote anonymously during her life and wasn't widely recognized as a great English writer until after her death in 1817.