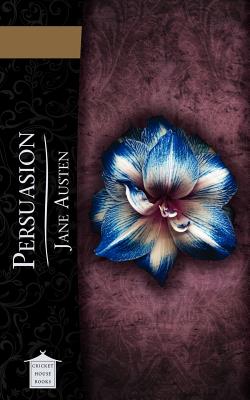 Persuasion
Paperback

* Individual store prices may vary.
Other Editions of This Title:
Paperback (4/5/2014)
Paperback (10/3/2015)
Paperback (8/11/2018)
Paperback (7/17/2018)
Paperback (7/18/2015)
Paperback (4/27/2012)
Paperback (7/23/2018)
Paperback (1/30/2017)
Paperback (5/12/2013)
Paperback (9/18/2014)
Paperback (2/2/2013)
Paperback (6/14/2018)
Paperback (4/27/2015)
Paperback (4/18/2016)
Paperback (7/2/2018)
Paperback (3/5/2018)
Paperback (3/4/2016)
Paperback (3/23/2015)
Paperback (5/7/2015)
Paperback (3/1/1818)
Description
This edition of Persuasion is part of The Jane Austen Collection offered by Cricket House Books. The collection includes Sense and Sensibility/1935814311, Pride and Prejudice/193581432X, Mansfield Park/1935814338, Emma/1935814346, Northanger Abbey/1935814354, and Persuasion/1935814362.________________________________Anne Elliot falls in love with a handsome young naval officer named Frederick Wentworth, who is intelligent and ambitious, but poor. Sir Walter, Anne's father and lord of the family estate of Kellynch, and her older sister Elizabeth are dissatisfied with her choice, maintaining that he is not distinguished enough for their family. Her older friend and mentor, Lady Russell, acting in place of Anne's deceased mother, persuades her to break off the match.Seven years later, at age 27 and still unmarried, Anne re-encounters her former fianc when his sister and brother-in-law, the Crofts, take out a lease on Kellynch. Wentworth, now a captain, is wealthy from wartime victories in the Royal Navy and from prize-money for capturing enemy ships. However, he has not forgiven Anne for her rejection of him.Persuasion is Jane Austens's last completed novel. She began it soon after she had finished Emma, completing it in August 1816. She died, aged 41, in 1817; Persuasion was published in December that year (but dated 1818).Persuasion is connected with Northanger Abbey not only by the fact that the two books were originally bound up in one volume and published together two years later, but also because both stories are set partly in Bath, a fashionable city with which Jane Austen was well acquainted, having lived there from 1801 to 1805.Source: http: //en.wikipedia.org/wiki/Persuasion_(novel)
Cricket House Books, LLC, 9781935814368, 198pp.
Publication Date: December 17, 2011