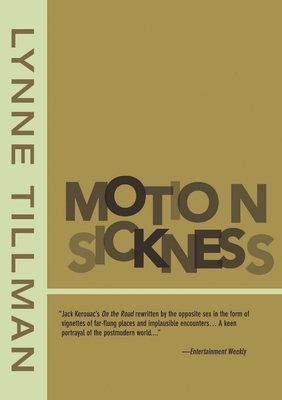 Motion Sickness (Paperback)
Red Lemonade, 9781935869030, 219pp.
Publication Date: April 22, 2014
* Individual store prices may vary.
Description
For the narrator of Motion Sickness, life is an unguided tour, populated with hotels, art, strangers, books, and movies. Adrift in Europe in the late 1980s, she improvises a life and a self. In London, she's befriended by an expatriate American Buddhist and her mysterious husband, who may be following her. In Paris, she discovers Arlette, an art historian obsessed with Velazquez's painting "Las Meninas." In Barcelona, she is befriended by two generations of Germans, pre- and post-World War 2. She tours the hill towns of Italy, in a London taxi, with two surprising Englishmen, brothers in pursuit of art and Henry Moore. And everywhere she goes she collects postcards.

About the Author
Lynne Tillman (New York, NY) is the author of five novels, three collections of short stories, one collection of essays and two other nonfiction books. She collaborates often with artists and writes regularly on culture, and her fiction is anthologized widely. Her last collection of short stories, This Is Not It, included 23 stories based on the work of 22 contemporary artists. Her novels include American Genius, A Comedy (2006), No Lease on Life (1998) which was a New York Times Notable Book of 1998 and a finalist for the National Book Critics Circle Award, Cast in Doubt (1992), Motion Sickness (1991), and Haunted Houses (1987). The Broad Picture (1997) collected Tillman's essays, which were published in literary and art periodicals. She is the Fiction Editor at Fence Magazine, Professor and Writer-in-Residence in the Department of English at the University at Albany, and a recent recipient of a Guggenheim Fellowship.
Praise For Motion Sickness…
Praise for Motion Sickness

A close reading [of Tillman] yields just how much her characters do want to connect, while preserving the right to their own process of intellection, the life of the mind. Haunted Houses, Motion Sickness and Absence Makes the Heart are nothing if not testaments to the belief that presenting the quality of one's mind in public is a means of connecting to others beside the self. In scenes of degradation, annihilation or joy, she contends with the idea that one's thoughts and gestures, while seemingly at odds, are married... attempts to accept the other not as a mirror but as a self." Hilton Als, Voice Literary Supplement, Best Books of 1991

Literature is a quirky thing and just when you start to believe it actually has been used up, along comes a writer, Lynne Tillman, whose work is so striking and original it transforms the way you see the world, the way you think about and interact with your surroundings...." Los Angeles Reader

A firsthand account of one woman's European journey and a riveting investigation of the troublesome notion of national identity,' Motion Sickness has true intellectual originality, a gorgeously sly dry irony, and a rich cast of thinkers and drinkers and eccentrics and hoods." — Patrick McGrath

This is Jack Kerouac's On the Road rewritten by the opposite sex in the form of vignettes of far-flung places and implausible encounters Impressions, associations, and bits of conversation jotted during lulls in a mostly manic itinerary, coalesce into a densely descriptive narrative. The result is a keen portrayal of the postmodern world&hellip." Ginger Danto, Entertainment Weekly

This is Jack Kerouac's On the Road rewritten by the opposite sex " Entertainment Weekly

"An intense and personal narrative. People and events are approached obliquely and never fully explained, as if we might know them already. This lean book is a welcome change after the baroque excesses of much contemporary fiction. Recommended for sophisticated readers." Library Journal

Lynne Tillman's Motion Sickness helped change my conception of what a novel could be Riotously funny." Robert Marshall