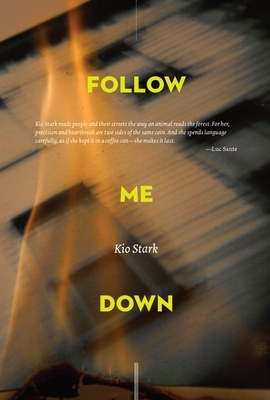 Follow Me Down
Paperback

* Individual store prices may vary.
Description
It begins with an envelope. Twenty years old, maybe more, with the dust of the dead-letter office still clinging to the stained, fraying paper. It arrives in the mailbox of Lucy with the address of a vacant neighborhood lot barely legible on the front. Inside she finds only a photograph of a man she does not recognize, but whose face captivates her instantly. She hunts for him, feeling for blind answers in the boroughs of her soul and city. The details of her world -- of a neighborhood decaying and maimed in daylight, yet pulsing with some hidden life in dark; the shaded, shifting menace of shadow on the night sidewalk -- blur together through the fogged lens of her favorite plastic camera, and the casual banter of summer afternoons evaporates into the hiss of something missing, leading Lucy across the darkened city, from the canal slicing through her neighborhood over the rivers at the city limits, its mystery resolving into vivid, caustic focus in the book's concluding scenes. Follow Me Down owns moments both wondrous in their sympathy and wild in their desolation, as Stark culls from the crumbling city setting characters mercurial and impassable, joyous and redemptive.

Praise For Follow Me Down…
After reading Kio Stark's Follow Me Down, a distant, half melancholic feeling lingers, a question unanswered that beats in the back of the head for days. Stark's evocative writing is terse, tough, poetic, and at times profound.Shannon Burke, author of Black Flies

Kio Stark reads people and their streets the way an animal reads the forest. For her, precision and heartbreak are two sides of the same coin. And she spends language carefully, as if she kept it in a coffee canshe makes it last.Luc Sante
Red Lemonade, 9781935869061, 110pp.
Publication Date: June 7, 2011
About the Author
Kio Stark writes about relational technology and teaches at NYU's Interactive Telecommunications Program, a graduate program for geeks, hackers, and artists. She has written about feminism, NYC night court, the history of documentary, graphic novels, failure and her favorite saints for The Nation, Killing the Buddha, Feed, Lime Tea and other publications and wrote the introduction to Least Wanted: A Century of American Mugshots, a collection of vernacular police photography. She spent a racetrack season in Miami interviewing old thugs for her doctoral work in American Studies at Yale. She talks to strangers and lives in Brooklyn with her partner, inventor Bre Pettis. This is her first novel.