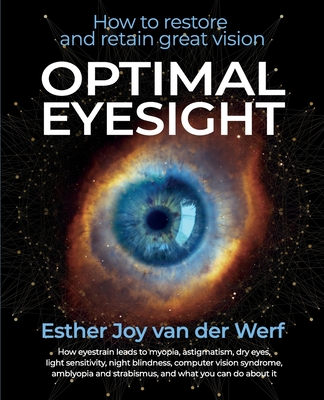 Optimal Eyesight
How to Restore and Retain Great Vision
Paperback

* Individual store prices may vary.
Description
Optimal Eyesight offers a simple method that eliminates eyestrain and positively affects your overall well-being, as well as your sight. Read this book if you're fed up with glasses, tired of contact lenses, feel your eyes are "weak," are "practically blind" without lenses, or if laser surgery scares you or cannot do anything for you. In short, you want a better solution. This book helps you discover and remove the root cause of blurry vision so you can enjoy maximum clarity, vivid color perception, increase depth perception, and look younger and more relaxed. There are no negative side-effects, you don't need expensive equipment or risky surgery, and the method can be used at any age. You'll be happily surprised by how soon you see results and how easily you can regain your optimal eyesight Praise for OPTIMAL EYESIGHT
With the advice Esther provides in Optimal Eyesight, I was able to throw away my glasses. I improved from -3 diopters of myopia to clear vision and no longer need glasses for anything I love the easy techniques that made it possible.
- Giovannella Pattavina, M.D. Optimal Eyesight is inspired and practical - kind, caring, creative and generous. And it's thorough - a treasure of information and support. Esther is a leading resource for organizing and expressing Dr. Bates' insights and practices.
- Ray Gottlieb, O.D., Ph.D. This is a must-read if you want to improve your vision naturally. Esther is a dedicated and gifted teacher of the Bates Method. This book will become a true classic in the field of vision improvement. I highly recommend it.
- Marc Grossman O.D., L.Ac., author of Natural Eye Care, Magic Eye Beyond 3D and Greater Vision This version of Optimal Eyesight (ISBN 978-1-935894-17-9) has gray-scale illustrations. Visit the Optimal Eyesight website for color-illustrated versions of this book.
Visions of Joy, 9781935894179, 324pp.
Publication Date: September 4, 2019