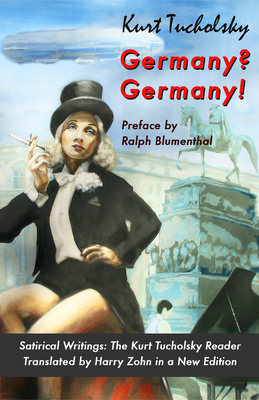 Germany? Germany! (Paperback)
Satirical Writings: The Kurt Tucholsky Reader
Berlinica Publishing LLC, 9781935902386, 208pp.
Publication Date: July 1, 2017
* Individual store prices may vary.
Description
Kurt Tucholsky is one of Weimar Germany's most celebrated literary figures. The poet, journalist, and satirist who was at the center of the tumultuous political and cultural world of 1920's Berlin still emerges as an astonishingly contemporary figure. But he was more than just an angry truth-teller; he was also one of the funniest satirical writers of his era, depicting everyday lives during the rise of modernity. The iconic translation of Harry Zohn, a literary figure from Vienna himself, presented Tucholsky to an American audience for the first time. This edition features a preface by Ralph Blumenthal, journalism professor and former reporter for The New York Times.
About the Author
Kurt Tucholsky was a brilliant satirist, poet, storyteller, lyricist, pacifist, and democrat; a fighter, ladies' man, reporter, and early warner against the Nazis who hated and loathed him and drove him out of Germany after his books were burned in 1933. Ralph Blumenthal is a distinguished lecturer at Baruch College and a former reporter for The New York Times. He is the author of Last Days of the Sicilians, Miracle at Sing Sing, Once Through the Heart, and Stork Club. He lives in New York City. Harry Zohn was a professor of German and a prolific translator. He wrote chiefly on German literature of the 20th century with special reference to Jewish and Austrian authors.
Praise For Germany? Germany!: Satirical Writings: The Kurt Tucholsky Reader …
"Kurt Tucholsky made his name as one of the Weimar era's most acid, incisive satirists; but to read this panoramic selection of essays, monologues, dialogues and aphorisms is to be reminded that he was also a brilliant literary shape-shifter, able to take on the persona of an embryo, a squirrel, a suite of pulp novels, or a prophet of post-apocalyptic hope with equal felicity."  —George Prochnik, author, In Pursuit of Silence
"Tucholsky's wit and his courage, his extraordinary sensitivity to language, and the timeliness of his writing have not waned a bit, even eight decades later. " —Noah Isenberg, professor, The New School for Liberal Arts, New York City
"Imagine a writer with the acid voice of Christopher Hitchens and the satirical whimsy of Jon Stewart, combined with the iconoclasm of Bill Maher. That's Tucholsky in a nutshell."  —Anne Nelson, author, The Red Orchestra
"Tucholsky's writing is similar to that of Heinrich Heine, his role model, in that it appears superficially simple but is replete with hidden meanings. His works are touching, stirring, and precisely to the point."  —Peter Appelbaum MD, PhD, Emeritus Professor, Pennsylvania State University
"In Weimar Germany, Tucholsky was big, the most brilliant, prolific and witty cultural journalist of his time. He poured scorn on the reactionary institutions of the old regime, the follies of the Weimar Republic, and the peculiarities of the German character."  —William Grimes, The New York Times
"Kurt Tucholsky was one of the most brilliant German Jewish writers and satirists of his time. The world has yet to discover his genius."  —Peter Schneider, author, The Wall Jumper and Eduard's Homecoming
"Tucholsky was a small, fat Berliner, who wanted to stop a catastrophe with his typewriter."  —Erich Kaestner, author, Emil and the Detectives
"Many of his aphorisms, observations, and formulations are timeless. More than a few are thankfully included in Germany? Germany! . . . Tucholsky, who was neither a politician nor a psychiatrist, was neither practical nor helpful — just brilliant and right . . . Even calling him a satirist — Germany's greatest since Heinrich Heine — does not fully capture this brilliant man."  —Los Angeles Review of Books