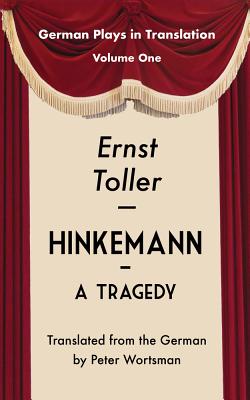 Hinkemann (Paperback)
A Tragedy (German Drama in Translation)
Berlinica Publishing LLC, 9781935902522, 90pp.
Publication Date: October 15, 2019
* Individual store prices may vary.
Description
In his day Ernst Toller (1893-1939) was as renowned as the young Bertolt Brecht. High profile persona non-grata in 1933 when the Nazis came to power, Toller fled to London, went on a lecture tour to the U.S. in 1936, and tried to make a go of it as a screenwriter in Los Angeles. Dispirited, despondent upon learning that his brother and sister had been sent to a concentration camp and convinced that the world as he knew it had succumbed to the forces of darkness, Toller was found dead by hanging, a presumed suicide, in his room at the Hotel Mayflower on May 22, 1939. Conceived in the German theatrical tradition of Jakob Michael Reinhold Lenz's The Soldiers and Georg Büchner's Woyzeck, Toller's devastating tragedy Hinkemann is a painfully poetic plaidoyer for the overlooked vision and voice of the victim.
About the Author
Ernst Toller was a revolutionary poet and playwright engage and president for six days of the short-lived Bavarian Soviet Republic. He was best known for his expressionist plays Hoppla! We're Alive, Man of the Masses and Machine Breakers. Peter Wortsman is an author and translator. He is the recipient of the IPPY award and is the former fellow of the Fulbright Foundation, the Thomas J. Watson Foundation, and a Holtzbrinck Fellow at the American Academy in Berlin. He is the author of two stage plays, two books of short fiction, and the books Cold Earth Wanderers and Ghost Dance in Berlin. He lives in New York City.
Praise For Hinkemann: A Tragedy (German Drama in Translation)…
"A superb translation of a challenging, searing play. Wortsman's rendering speaks the language of late German Expressionism while remaining accessible to English readers today. Toller's brisk yet powerful dialogue brings the characters to life and conveys the brutality and surreality of their struggle and their pain."  —Lisa Marie Anderson, Chair of the Department of German at Hunter College, City University of New York