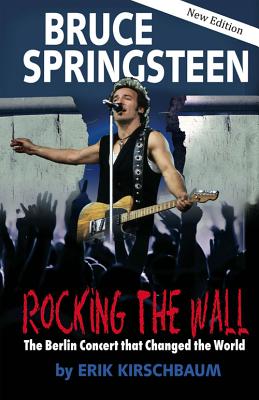 Rocking the Wall (Paperback)
Bruce Springsteen: The Berlin Concert That Changed the World (Americans in Berlin)
Berlinica Publishing LLC, 9781935902829, 168pp.
Publication Date: May 1, 2015
* Individual store prices may vary.
Description
Uncovering the story of the epic Bruce Springsteen concert in East Berlin on July 19, 1988, this revised edition contains additional color photographs and a new preface by a Bruce Springsteen band member depicting how the Springsteen concert in Berlin changed the world. Research was collected from dozens of fans, participants, and organizers, as well as Jon Landau, Springsteen's long-time friend and manager, who unearthed old newspaper clippings, TV tapes, Stasi files, collected photos, and memorabilia. Take a trip with Springsteen and be transported to the divided city, where The Boss, live on stage, delivered a bold speech calling for all barriers to be torn down to a record-breaking crowd of more than 300,000 delirious young East Germans full of joy and hope. Their tremendous, powerful cry for freedom became the "final nail in the coffin" of the Communist regime, which subsequently led to the uprising that brought down the Wall.
About the Author
Erik Kirschbaum is a correspondent for the Reuters International News Agency, a nonfiction author, a longtime Springsteen fan, and an unabashed crusader for renewable energy. He has written about topics anywhere from entertainment to climate change in over 20 countries. He lives in Berlin.
Praise For Rocking the Wall: Bruce Springsteen: The Berlin Concert That Changed the World (Americans in Berlin)…
"Inside this book is as clear a statement of the power of this music as anyone, ever, has come up with."  —Dave Marsh, music critic, Rolling Stone
"An illuminating and impressively detailed examination of a frequently overlooked moment in the nexus of rock music and political liberation. I learned a great deal and enjoyed doing so." —Eric Alterman, author, What Liberal Media?
"A glorious example of the influence that rock 'n' roll can have on people who are hungry and ready for change."  —Michelle Martin, journalist, The Washington Post
"In telling the back story of how the concert came to be, Rocking the Wall also offers a fascinating historical snapshot of East German Communist cultural officials scrambling to contain the brewing political restlessness all around them."  —Vanessa Fuhrmans, reporter, The Wall Street Journal
 
"What was intended by East Berlin's hard-line leadership as a pacifier for their people, Kirschbaum argues, had the opposite effect and turned into a powerful agent for change."  —Derek Scally, Berlin correspondent, The Irish Times
"It was cultural forces, not merely political or military ones, that won the Cold War for the West, and which may yet spring more oppressive regimes from the tyranny of the old and joyless. Young East Germans wanted their rock and roll."  —Tris McCall, music critic, The Star-Ledger
or
Not Currently Available for Direct Purchase